Premier League sells Middle East and Africa TV rights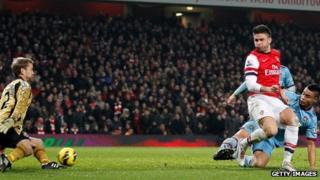 The Premier League has awarded the live audio visual broadcast rights for the 23-nation Middle East and North Africa region to media agency MP & Silva.
The deal covers all 380 Barclays Premier League matches each season, from seasons 2013-14 to 2015-16.
Premier League chief executive Richard Scudamore said the firm would distribute league action in a "comprehensive and innovative manner".
The Middle East is home to TV networks Al Jazeera and Abu Dhabi Media.
It remains to be seen if MP & Silva is persuaded to sell on the Premier League rights to one of these major and wealthy networks.
Andrea Radrizzani, chief executive of MP & Silva group, said the deal - and others it has previously signed with the Premier League - now meant that the company was partnering the football league in 40 countries across the Asia, Pacific, Middle East and North Africa regions.
The firm will be the exclusive distributor of the Barclays Premier League TV rights, mobile and digital media for the territories of Bahrain, Iraq, Iran, Kuwait, Jordan, Lebanon, Mauritania, Oman, Qatar, Saudi Arabia, Sudan, South Sudan, Syria, United Arab Emirates, Yemen, Algeria, Chad, Libya, Morocco, Somalia, Tunisia, Egypt and Djibouti.
MP & Silva's portfolio includes rights to major football leagues and clubs across Europe.