Starbucks rejects tax row threat after Cameron speech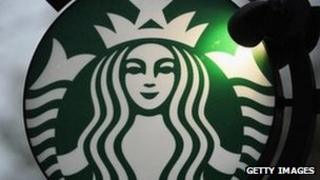 Starbucks has dismissed reports it held urgent talks with government officials over fears it was being singled out for criticism of corporate tax avoidance.
Starbucks confirmed that it had had a meeting at Downing Street on Friday, but said this was "long-scheduled".
Last week Prime Minister David Cameron said tax avoiders "need to wake up and smell the coffee", perceived as a thinly-veiled swipe at the company.
Tory party Chairman Grant Shapps said no-one was being singled out.
However, he repeated that companies had to pay "their fair share" of tax.
Starbucks, along with Amazon, Google and others, faced a public backlash last year over the disclosure of the amount of corporation tax they pay.
Starbucks had paid £8.6m in corporation tax in its 14 years of trading in the UK, and nothing in the last three years, despite UK sales of nearly £400m in 2011.
In December the coffee chain agreed voluntarily to pay extra tax over the next two years, amid reports it was facing a boycott by some customers.
'Politicisation'
Speaking at the World Economic Forum in Davos on Wednesday, Mr Cameron said that corporations must "pay their fair share" of taxes, and he pledged to use Britain's G8 chairmanship to counter tax avoidance.
However, Starbucks felt his remark about "smell the coffee" was a "cheap shot" at the company and considered suspending millions of pounds worth of investment in the UK, the Sunday Telegraph reported.
Kris Engskov, UK managing director for Starbucks, met officials on Friday amid concerns about the "politicisation" of the tax issue.
But on Sunday, Starbucks said that Friday's meeting was scheduled long before Mr Cameron's Davos speech.
"We do not discuss the details of our government meetings but can say that we do not recognise how it has been reported," the company said.
Mr Shapps said no company was being targeted for criticism, but he repeated that they must pay their fair share of tax.
"I don't think we would ever single out a single company, but I do think companies in this country need to pay their way," he told Sky News' Murnaghan programme.
"I think they need to do what's right as far as that is concerned and I think most people watching this would agree, companies should pay their fair share of taxation.
"That applies to that company and anyone else you care to mention. It certainly applies to millions of smaller businesses in this country.
"People who work very hard, build up their companies from scratch... are paying their fair share of taxes all the way through. The same rules have to apply to everyone."
Last month the coalition government announced a campaign against "tax dodgers" and "cowboy advisers" to claw back £2bn a year, after MPs alleged that multinationals were involved in "immoral" avoidance of tax.
Starbucks said in its statement: "Starbucks agrees with the prime minister that all businesses should pay their fair share.
"In the UK, we employ 9,000 people, contribute £300m a year to the economy and are forgoing tax deductions that will make the Exchequer at least £20m better off."