ECB loans: European banks to repay early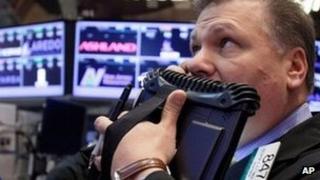 Some of the banks in Europe that received billions in cheap loans to keep them afloat during the eurozone debt crisis are to repay them early.
The European Central Bank (ECB) said that 278 eurozone banks will repay 137.16bn euros ($185bn; £117bn) of three-year loans they borrowed.
The money, lent in December 2011 and February 2012, will be paid on 30 January, it added.
The loans were made when many feared that the eurozone would break apart.
It lent the money amidst fears that Greece, which needed two international bailouts, could default on its huge debts. At the same time, many investors thought the huge economies of Spain and Italy may be next to require international assistance.
On Friday, the head of the European Central Bank said that the 17-nation currency, which dates back to 1999, had effectively been relaunched during the past year.
"If one has to find a common denominator... for defining why 2012 is going to be remembered, I think one would say it's the year of the relaunching of the euro," Mario Draghi said at the World Economic Forum in Davos, Switzerland.
"All the indices point to a substantial improvement of financial conditions."
The ECB has forecast that eurozone economic growth in 2013 will be between minus 0.9% and plus 0.4%.
Mr Draghi said: "Are we satisfied? I think to say the least, the jury is still out. Because all in all, we haven't seen an equal momentum on the real side of the economy and that's where we will have to do much more."
Cheap loans lent
In total, the ECB lent more than 1 trillion euros of low-interest loans to banks.
The ECB provided 530bn euros of low-interest loans in February 2012 to 800 banks across the whole of the European Union - including 37.4bn euros to UK banks.
Some 489bn euros had been lent out in December 2011, and it is from this first batch that loans will be repaid early.
Both rounds of the loans - dubbed long-term refinancing operations (LTRO) - included provisions to allow paying them off early, beginning at the end of this month. After that, repayments can continue on a weekly basis, depending on demand.
The early repayment could be seen as a sign that the eurozone is recovering. But the ECB did not reveal the nationalities of the banks paying back the debt early.
Many of the banks may still be from financially stronger countries like Germany and the Netherlands, suggesting that the split between the more solvent north of Europe and its weaker south remains.
Ireland and Portugal have also required bailouts, though both have since been able to return to borrowing money in the financial markets.