Banca Monte dei Paschi trades probed in Italy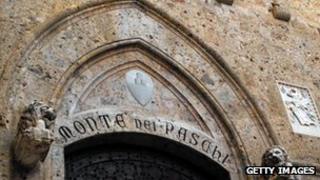 Shareholders of the world's oldest bank have approved a plan needed to get a state bailout amid revelations that it concealed loss-making risky trades.
Italy's Banca Monte dei Paschi di Siena and regulators are investigating the trades.
The Bank of Italy defended its role in supervising Italian banks, denying knowledge of the trades.
Banca Monte needs 3.9bn euros (£3.3bn, $5.2bn) in government aid to meet European banking rules.
The Tuscan bank, founded in 1472, confirmed this week that the three trades - named Alexandria, Santorini and Nota Italia - would be investigated in full to "precisely assess the impact of the transactions and consequently adopt any measures needed, including a retrospective restatement of their accounting representation".
Reports have suggested the trades could lead to another 720m euros of losses.
This has raised the prospect of further losses, and the trades are being investigated by regulators. Banca Monte plans to report on its internal investigation into the trades by mid-February.
Italian Prime Minister Mario Monti has offered to recall parliament to discuss the growing scandal and President Giorgio Napolitano said that he had full faith in the country's central bank.
'Not the police'
Bank of Italy Governor Ignazio Visco on Friday told Bloomberg TV at the World Economic Forum in Davos, Switzerland, that the trades "that were risky, the ones that had reduced liquidity at the bank, were actually connected with other operations which had losses we were not informed of".
"The Bank of Italy is a supervisor but is not the police of the banks," he added.
This week, the Bank of Italy released a statement in Italian saying that the "true nature of certain transactions regarding the Monte dei Paschi di Siena reported in the press has emerged only recently, following the discovery of documents kept hidden to the supervisory authority and brought to light by the new management of MPS".
The trades involved investments to hedge the risks of buying long-term Italian government bonds.
"It is noted that none of the transactions in question appears to have been submitted to the bank's board of directors for approval," Banca Monte said.
In November, when it asked for more aid, Italy's Banca Monte dei Paschi di Siena reported a loss of 1.7bn euros for the first nine months of the year.