My first Davos - what I learned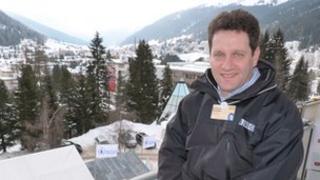 My first trip to the World Economic Forum in Davos is coming to an end, which makes it a good time to reflect on what I have learned from four days in a Swiss ski resort with a vast selection of world leaders and business bosses.
Here are my key findings:
Badge colour is important
Two of us have been in the Swiss ski resort of Davos for the BBC News website.
It was the first time for both of us, but my colleague got the white badge and I got an orange one.
You'd think that wouldn't make much difference, but you'd be wrong.
Davos runs an almost caste-like system of badges.
A white badge means you're one of the delegates - you might be the chief executive of a company or the leader of a country (although that would also get you a little holographic sticker to add to your badge), or a senior journalist.
An orange badge means you're just a run-of-the-mill working journalist.
We're not in the dotcom era any more
I was told that I didn't need to wear a suit and that "business casual" dress would be fine.
This was not true - almost every man attending the forum was wearing a suit, either with or without a tie.
The only people at the whole event wearing a jumper were Financial Times editor Lionel Barber and me.
That badge colour thing really is important
There are other badges for staff, security personnel, partners of delegates, volunteers, technical staff and the entourages of people important enough to have them.
Walking down an icy road, I heard a snippet of conversation from a passing group of women.
One of them said, "and then this orange badge just came and sat down right next to me!" as if she was talking about some sort of social outcast.
And it's not just about the contempt - there are practical differences too.
My colleague emailed a major car company to see if he could get to interview its boss during the week.
The press officer replied asking what colour badge he had!
Swiss plugs are different
The BBC's coverage was almost scuppered by my failure to bring a Swiss adapter.
Swiss plugs are different to those from everywhere else in the world, and contrary to the advice of colleagues, using a normal European adapter and pushing it in a bit harder does not work.
Fortunately I was saved by the technical support desk of an international consultancy firm, which lent me one for the week.
On the down side, it turned out that a Swiss adapter attached to a European adapter looks like a small gun through an X-ray machine, according to the Davos security, which held me up for some time.
It's pretty cold
I know it goes without saying, but this ski resort in January is quite cold.
On a few days it was sunny and not too bad for some of the time, but when returning to the hotel after dark or setting off for a breakfast meeting it was brutally, nose-hair freezingly cold.
White badges really are better than orange ones
My colleague and I had to enter the conference centre through different entrances. He was allowed to attend many more sessions and events than I was, and his photo and biography appeared in the enormous directory of delegates, while I was just one of the huddled masses of nameless reporters.
I suppose I shouldn't complain. I got to spend a week working in a posh ski resort and mingling with leaders of countries and companies alike.
I had a meal with Malaysian ministers and cocktails with company chiefs.
But my colleague did rub it in terribly.