UK GDP: 'I didn't think getting a job would be this hard'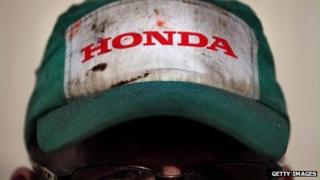 "I never thought I'd walk out of college into a job, but I didn't think it would be this hard."
Thirty-seven-year old Sean Stroud's frustration with the job market in Swindon is a human echo of the UK's bumpy "recovery".
Like a thousand other skilled assembly line workers, Sean left Honda's huge car factory in Swindon in 2009 when the company was "reshaping" its workforce.
Sean went on to retrain, doing a BTech in Information Technology. IT, he reasoned, was full of jobs.
But 18 months on, Sean is still looking. And now another 1,000 Honda workers will be joining him in the job centre.
Two weeks ago, the Japanese car firm announced its first ever compulsory redundancies in the UK. Some 800 staff, another 300 agency workers, and at least 350 people working for companies that supply Honda will be out of work by 1 May.
That is a total of nearly 1,500 people looking for work. There are only 3,861 people claiming Jobseeker's Allowance in the whole town, according to the latest figures, so this is a substantial increase.
"The Honda decision was a disaster," remarks Emma Faramarzi, who chairs the Federation of Small Businesses in the town.
"Not only for the direct workers, but for every small firm that supplies catering or IT or delivery services. They'll all feel the chill."
The factory is such a big employer in Swindon that its decisions ripple across the town. Amanda Franks, who runs a recruitment agency, felt the impact immediately.
She said, "The instant Honda announced their news was the instant jobs went on hold. What it does is it removes confidence across the board.
So can Swindon recover from a shock like this?
The town's fortunes echo the whole country's economy. Swindon's average wage is £26,300. Average wages across the UK are £26,900. House prices here hover around £175,000, the national average.
Ian Larrard, director of a business group called The Swindon Initiative, is hopeful.
"Swindon's normally first into a recession, and we'll be the first out," he tells me.
Business was just starting to come back before Honda's decision to cut its output so dramatically.
The key to the town's economy is diversity.
As well as the car factory and its supply firms, there are several hi-tech companies here like Intel and Motorola and a cluster of small specialist outfits. The Nationwide leads a strong group of finance firms. And increasingly, this is a distribution town.
B&Q opened a new warehouse supplying the south of England and employing 500. Several large logistics firms employ hundreds of forklift drivers on the east of the town.
So Swindon is the UK in one place. Hi-tech firms flourishing, corporate headquarters from multinationals ticking over, hundreds of small enterprises struggling away.
But a high-profile cutback in a flagship company like Honda catches all the headlines, and cuts confidence.
Sometimes it takes a publicity stunt to counter the headlines.
Sean Stroud, searching for work in the computer industry, has tried his own gimmick. He set up an account on Twitter with the simple title, @PLSGlVEMEAJOB.
Can Swindon answer him? If not, the recovery may still be some way off.