Davos 2013: Draghi sees 2013 eurozone recovery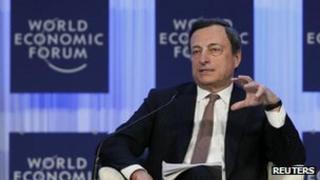 European Central Bank (ECB) president Mario Draghi says he expects the eurozone economy to begin recovering in the second half of this year.
Speaking at the World Economic Forum in Davos, Switzerland, he said there had been significant improvements in European financial markets.
But he said it would take time to see similar gains in the real economy.
Last month, the bank said the eurozone economy would either contract or expand between -0.9% and +0.4% in 2013.
Europe's financial markets are "experiencing a renewed sense of relative tranquillity", he told the forum, saying there had been "substantial improvement in market conditions" over recent months.
Later on Friday the ECB announced that more than 130bn euros ($175bn; £111bn) in crisis loans lent to European banks would be paid back next week - earlier than expected.
The ECB made over 1tn euros of loans available to banks in 2011 and 2012 to prevent another credit crunch.
Austerity 'unavoidable'
But Mr Draghi said the performance of the real economy had been less positive.
"The level of economic activity is in the process of stabilising at very low levels," Mr Draghi said. "We foresee a recovery in the second half of the year."
He also admitted that the "jury is still out" on whether measures taken by the ECB last year to pump liquidity into the markets had been successful.
But he said the governments of eurozone members states deserved credit for the "extraordinary progress" they had made in terms of fiscal consolidation and structural reforms.
Governments in Greece, Spain and other European countries have seen public protests and unrest at plans to cut spending and raise taxes in an effort to cut budget deficits and restore investor confidence.
Mr Draghi said the question of austerity versus growth was nonsensical.
"Fiscal consolidation is unavoidable," he said.
"There can't be sustainable growth achieved though an endless creation of debt. But we have to admit that fiscal consolidation is contractionary in the short term.
"The question is not growth versus consolidation, it is how do we mitigate the negative effects of short term fiscal consolidation."
'Balance issue'
Speaking at Davos later on Friday, France's Finance Minister, Pierre Moscovici, said eurozone governments had to move on from stabilising their economies to driving growth.
Growth had to be achieved, he said, at the same time as continuing to reducing government deficits, and boosting economic competitiveness.
"This is the way now that we have taken, it is a long way, a difficult way, but I'm sure it is the right way," said Mr Moscovici.
"The question is for us is… what is the correct balance between what must we do to enhance fiscal consolidation in the long term, and boost growth in the short term."