Anglo American in platinum production slump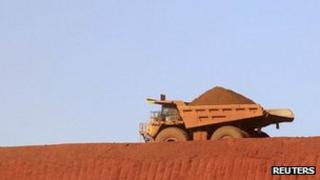 Mining group Anglo American has reported a drop in fourth quarter production of platinum and iron ore.
The company, the world's largest producer of platinum, was hit by strikes in these sectors of South Africa's mining industry last year.
Platinum production fell by 29%, following almost two months of labour unrest.
The firm has revealed plans to tackle losses at its platinum arm by cutting jobs and mothballing mines.
Earlier this month, Anglo American Platinum said it would cease production at four mine shafts in the Rustenburg region of South Africa, which could lead to the loss of almost 14,000 jobs.
"Equivalent refined platinum production decreased by 29% owing to the illegal strike action at the Rustenburg, Amandelbult and Union mines," the company said in a statement.
"The illegal strike took place between 18 September and 15 November 2012. This resulted in a loss of platinum production of 272,590 ounces during the quarter."
Iron ore was the largest contributor to Anglo's profit in 2011, but the firm said production at its key Kumba Iron Ore unit fell 19% to nine million tonnes, after five million tonnes of production were lost at its Sishen mine due to the strike.
Copper production, the second largest contributor to profits, rose by just 2% to 172,900 tonnes, as troubles continued at its Collahuasi mine in Chile - including with low ore grades.
However, that was offset by copper production from its Los Bronces mine increasing by 31%, with the mine's expansion contributing 54,100 tonnes.
This month Anglo American announced that Mark Cutifani, the current boss of AngloGold Ashanti, would be its next chief executive, taking up his post on 3 April.
An Australian, he replaces American Cynthia Carroll, who announced in October that she would be standing down after pressure from shareholders.
Anglo's annual financial results for 2012 are set to be announced in February.