Barclays senior staff 'linked' to Libor affair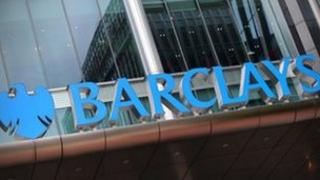 A lawyer in a case involving the Libor rigging scandal has said evidence links senior Barclays staff to the affair.
Tim Lord cited alleged communications from the "31st floor" of Barclays HQ - which housed senior executives - about the benchmark market interest rate.
It came after the presiding judge refused to grant anonymity to 104 of the bank's employees, including former heads Bob Diamond and John Varley.
Mr Lord represents a company claiming to be a Barclays mis-selling victim.
Guardian Care Homes accuses the bank of mis-selling it an interest rate hedging product linked to the Libor interest rate which Barclays, and other major international banks based in London, are now known to have manipulated.
Libor, a daily average of borrowing costs announced by a panel of London-based banks, is used to calculate payments on hundreds of trillions of dollars-worth of financial contracts.
Among the other 104 Barclays employees whose requests for anonymity in the case were rejected in the High Court by Mr Justice Julian Flaux were finance director Chris Lucas, the investment banking head Richard Ricci, and the former head of regulatory compliance Stephen Morse.
Had their request been granted, their identities would have been redacted from all documents and records studied in the court.
But the judge claimed it was in the public interest to discover how far up the chain of command knowledge of the rigging went, noting "the cat is out of the bag".
He has also instructed Barclays to disclose the minutes from further board meetings at which the interest rate was discussed.
The judge himself has noted that minutes already in the court's possession "showed some debate at a fairly high level in the bank".
A spokesman for Barclays commented: "This started as an alleged mis-selling case which the bank considers has no merit.
"The addition of a claim based on what happened with Libor does not change the bank's view."