Premium Bonds will not be sold for cash, says NS&I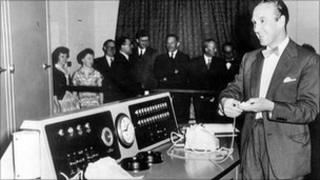 Savers will no longer be able to buy Premium Bonds in cash over the counter at the Post Office from 1 April, as services continue to move online.
This is part of a continued move away from the Post Office by National Savings and Investments (NS&I).
About £44bn is invested in Premium Bonds by 21.6 million people, all hoping to win the £1m monthly jackpot.
Customers can still pay by cheque or debit card at post offices or directly with NS&I.
This can be done by phone, by post, on the internet, or by standing order.
Tax-free prizes
Harold Macmillan announced the launch of Premium Bonds in the 1956 Budget, in a bid to encourage saving and reduce inflation.
The draw is made by Ernie - Electronic Random Number Indicator Equipment - in a secure location only accessible by a handful of NS&I employees.
The computer takes two-and-a-half hours to make the random monthly draw of the tax-free prizes.
The number of people who have invested in Premium Bonds has fallen by about 1.4 million in the last 10 years, but the amount invested has more than doubled, excluding the effect of inflation.
Meanwhile, the government-owned NS&I is transferring customers who hold its Cash Individual Savings Account (Isa) or a T-Cash Isa, and who could make withdrawals at Post Office counters, to its Direct Isa on 25 May.
There are nearly 100,000 savers affected, but they will see their rate of interest rise from 0.5% to 2.25% as a result.
The Cash Isa was closed to new customers in April 2009. Existing customers will receive a letter explaining the shift, and outlining the split from services at the Post Office.