Refund 'delays' for credit card ID fraud victims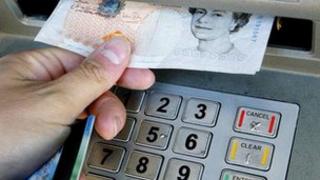 Nearly a third of card fraud victims face waits of weeks or months before getting their money back, a consumer group's survey of members has found.
Victims of fraud must be refunded immediately by their bank, unless they were found to be grossly negligent or involved in the fraud.
But 6% of Which? members who had been hit by ID fraud said they waited for refunds for between two and six months.
The industry body said a "high level of protection" was offered.
Distraction tricks
The survey, which took the views of just over 4,000 card fraud victims found that 98% of them eventually got their money back.
However, even the best performing banks and card providers delayed refunds to 17% of victims.
Latest figures show that debit and credit card fraud has increased as con artists turn to unsophisticated snatching and Pin theft.
Total losses on UK cards hit £185m in the first six months of 2012, a 9% rise on the first half of 2011, the UK Cards Association latest statistics show.
Tricks include fraudsters distracting consumers in shops and at cash machines to steal cards, or tricking cardholders out of their Pin by phoning in the guise of their bank.
Richard Lloyd, Which? executive director, said: "There are large sums at stake that can leave people seriously out of pocket and unable to pay essential bills."
Last October, chief financial ombudsman Natalie Ceeney said that too many cases were being brought to the ombudsman service where banks or card providers had failed to investigate a fraud just because the correct Pin number was used with the card.
The use of a correct Pin should not be used as proof that a cardholder was involved in the fraud, but the ombudsman said that sometimes customers were told the case was closed for this reason.
A spokesman for the UK Cards Association said: "Customers who become the victims of fraud get a high level of protection from their card companies and can expect to receive a full refund on any losses.
"Reassuringly, most card companies ensure that the available balance and interest payments are unaffected, which provides support and respite to customers.
"Cardholders who feel they have been treated unfairly can use the bank's internal complaints processes, and also have an additional route of appeal to the independent Financial Ombudsman Service."