Davos 2013: Merkel says Europe must stick to austerity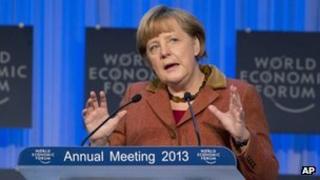 European nations must stick to continuing austerity measures to reduce government debt levels, the German Chancellor has said.
Speaking at the World Economic Forum, Angela Merkel said that Europe "must implement the structural reforms today so we can live better tomorrow".
She added that it was also vital for European countries to keep up work to improve their economic competitiveness.
Earlier, the Dutch prime minister had called for more work to boost growth.
Also speaking at the World Economic Forum in Davos, Switzerland, Mark Rutte said he found it "frustrating" that eurozone nations were "so much" focused on crisis management.
However, in her speech, Mrs Merkel said economic growth and structural reforms had to go hand-in-hand.
She said: "Budget consolidation and economic growth are two sides of the same coin."
'Need inspiration'
Mr Rutte said the European Union needed the UK and Denmark to "inspire" fresh debates over boosting growth.
He also said that he wanted the UK to remain an "active" EU member.
"I can be extremely frustrated that the debates in the eurozone group are so much focused on the troubles we have. We should move to spend time on getting growth going," Mr Rutte told a panel of speakers including Italian Prime Minister Mario Monti, his Danish counterpart Helle Thorning-Schmidt, and the Republic of Ireland's Enda Kenny.
"We need countries like Denmark, Sweden and the UK... to stay not just in the EU but to be active, because they are focused on bolstering [their economies] and that is a very different debate we are having in the eurozone," he added.
"So I'm always trying to liaise with non-eurozone countries. We need them to be with us because we need their inspiration."
Prime Minister Thorning-Schmidt also echoed his views, saying that Europe had "to move on to practical issues right now" such as improving competitiveness, as the "prospect for getting jobs and growth in Europe is enormous."
The comments came as the International Monetary Fund recently warned that the euro area, struggling from austerity programmes, continued to hinder an already weakening global economic recovery.
But Ireland, which has pushed through six austerity budgets since 2008 after its property bubble burst, has been facing recovery, albeit fragile, and won the confidence of international investors.
"When you have a strategy and you follow it, you have results," said Irish Taoiseach Kenny, adding that he expected his country to exit the bailout programme this year.
"But our people have had to take really serious challenges...The central issue is that people see that leaders follow through with the decisions they've made."
"It's important in terms of international reputation for them to understand that their money is not wasted."