Hundreds more UK shops close, BRC says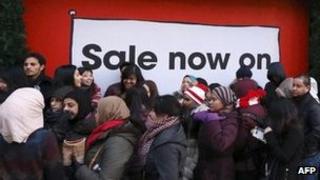 Hundreds of UK shops closed in December, according to a new survey.
The British Retail Consortium (BRC) said 573 shops closed, even before the recent big-name failures of HMV, Jessops, Comet and Blockbuster.
Although retail sector employment rose 0.6% in the final quarter of 2012 compared with the same period a year earlier, all these jobs were part-time, the BRC said.
And half the firms surveyed plan to cut staffing levels in the next few months.
This survey compounds recent figures from the Office for National Statistics which revealed that retail sales in December were 0.1% lower than November.
Helen Dickinson, director general of the BRC, said: "The fact that total employment edged up during this quarter, driven by part-time workers, is a shaft of light against an otherwise challenging backdrop.
"It shows that, despite relentlessly tough times, retailers are continuing to invest in people and support job creation as much as they can.
"But the record drop in store numbers is stark evidence that this investment should not be taken for granted. We're by no means out of the woods yet, and given the administrations of recent weeks, the next quarter's figures are likely to make difficult reading."