Mr Cameron in Davos - and bother from the IMF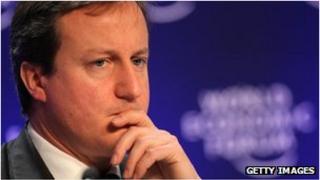 David Cameron wants to use his keynote address here in Davos today to call for international co-operation to make sure that global companies pay their fair share of tax.
But, the movers and shakers meeting here may be more interested in what he said yesterday about Britain's future in the European Union.
They also want to hear what Mr Cameron and his chancellor - speaking later today - plan to do to add life to Britain's feeble economic recovery.
George Osborne will want to point out that the latest forecasts from the International Monetary Fund show Britain growing faster than the eurozone in both 2013 and 2014.
Setting a date
He will be less happy with comments from the Fund's chief economist, Olivier Blanchard, suggesting that the time is right for the chancellor to reassess his budget plans.
Mr Osborne has been accustomed to getting solid public support for his economic policies from the IMF, even when the UK economy continued to disappoint, and even when the IMF's broader economic research suggested that a slower approach to cutting the deficit in 2010 might have been less damaging to the recovery.
Nearly every time the Fund has reported on the UK since 2011 it has suggested that the pace of tightening might need to be rethought, if the prospects for growth got even worse.
But although the growth forecasts have been continually revised downwards, the time for that rethink somehow never arrived.
Except, last year, the Fund's annual health check of the economy included a few sentences that were more concrete - and which included a date. (I wrote about it at the time)
The report warned that the pace of fiscal tightening being planned for 2013-14 was faster than in 2012-13, and might be difficult for the economy to handle, if the recovery continued to be anaemic.
Specifically, the report said the plans "would need to be scaled back if growth does not build momentum by early 2013".
In an interview for the Today Programme, Mr Blanchard has now told the BBC that the Fund's advice had not changed: "Our early advice is still very much there... If things look bad at the beginning of 2013, there should be reassessment of fiscal policy. We still believe that."
Mr Osborne will still be in Davos when the first estimate for growth in the last three months of 2012 is released tomorrow. If that is as weak as many fear, the IMF seems to think that the Budget in March will be the time for the chancellor to take stock.