Monti expects UK citizens to vote to stay in the EU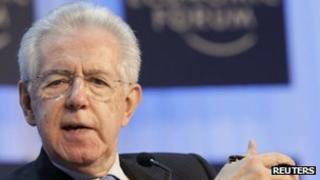 Italy's Prime Minister Mario Monti expects UK citizens to vote to remain in the European Union (EU) if they are ever asked to decide in a referendum.
Mr Monti's comments come after UK Prime Minister David Cameron promised such a referendum if he wins the next general election outright.
Speaking at the World Economic Forum, Mr Monti said UK voters simply had to be reminded of the benefits of the EU.
He added that the EU needed "willing" member nations.
"I am confident that if there is to be a referendum one day, the UK citizens will decide to stay in the EU and contribute to shape its future," Mr Monti said.
He added that there was an "advantage" in putting a direct "in or out" question to the British electorate, rather than asking a marginal question relating to one aspect of the European Union.
Mr Monti also said he shared Mr Cameron's opinion that prosperity and growth had to be Europe's priority, even if there were other aspects of the UK's prime minister's speech he agreed with less.
'Evenly spread'
The Italian prime minister also used his speech at the gathering in Davos, Switzerland, to give details of his work to reform Italy's finances over the past two years.
He praised the understanding of the Italian people for broadly backing his government's reforms.
"Policies that could appear deeply unpopular - inevitably unpopular to begin with - can win support if they are well [and] simply explained, and if they show that the reform effort will be evenly spread to avoid specific groups in society feeling they are being unfairly singled out," said Mr Monti.
"The future of Italy lies on a steady basis. In the next months, Italy will not look backward or inwards.
"Italy will continue to be a very active partner in Europe. But this requires action.
"It is the challenge of ensuring that opportunity is shared and accessible. This is the essence of my commitment - building a highly competitive social market economy in Italy, and in Europe."