'Tea cartel' formed by biggest producing nations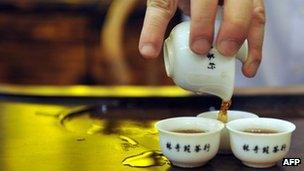 The world's biggest producers of tea have agreed to join forces, raising the prospect of a cartel controlling the price of the popular drink.
Following talks in Colombo, Sri Lanka, India, Kenya, Indonesia, Malawi and Rwanda announced the formation of the International Tea Producer's Forum.
The nations control more than 50% of global production.
Sri Lanka's Plantations Minister Mahinda Samarasinghe suggested that quotas could be created in the future.
In 1994, Sri Lanka proposed a tea cartel - where prices are set by the major producers rather than a market - along the lines of the oil cartel Organization of Petroleum Exporting Countries (Opec), but there was no agreement among the tea nations at the time.
Mr Samarasinghe said people had been trying to establish such a forum for 80 years. "In that context, what we have just achieved is a historic landmark in the tea industry."
Production quotas "are not part of the objectives listed in the constitution, but I am sure these are matters which will be discussed some time in the future," he added.
China is the largest producer of tea in the world but is not a member. But China and Iran, two of the big consumer nations, have been invited to be observers to the Forum. China is also the world's biggest producer of green tea.
The price of benchmark Malawi tea was around $2.75/kg, down from around $2.80 a year earlier.
Sri Lanka Tea Board chairman Janaki Kuruppu suggested that "people can pay a little more for tea", comparing its price to other drinks. Ms Kuruppu added: "In Sri Lanka, tea is cheaper than bottled water."