Emergency funds eroded by debt, charity says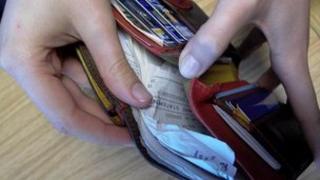 Families are being left financially vulnerable as interest on existing debts is eroding money set aside for emergencies, a charity has warned.
The StepChange debt charity suggests that UK households face debt interest payments of £189 a month on average.
It suggests this is eating into their financial buffer for unexpected expenses, such as a broken boiler.
A separate report suggested that one in five people were set to retire in 2013 still having outstanding debts.
The survey, for insurer Prudential, found that the proportion of potential retirees with debts was the same as 2012, but the amount that they owed had fallen by about £7,000 to £31,200.
"This is a welcome sign that people are paying off some of the money they owe before they stop working," said Vince Smith-Hughes, of Prudential.
'Vicious cycle'
Figures from the major banks have shown that repayments of loans and overdrafts have regularly outstripped new borrowing.
However, the StepChange charity said that debt interest - including that on credit cards - still took up about 22% of funds available to households following spending on essentials.
This, according to Delroy Corinaldi of the charity, could lead to problems when households are faced with unexpected costs.
"If they do not have the finances to deal with unexpected bills, they are going to have to rely on credit to cover the cost of them," he said.
"Therefore, the burden of debt interest can often lead to a vicious cycle where people are using credit because so much of their income is being eaten up by debt interest payments each month."
Credit change
A separate report suggested that spending in recent months had added to certain families' debt burden.
Credit cards continued to be the most popular form of unsecured credit, the survey for Aviva found.
Although debt was now concentrated on fewer families, the average amount these households owed rose from £10,563 in August last year to £11,101 in January.