Unilever reaches 50bn-euro turnover in 2012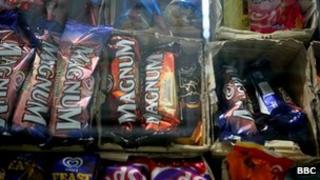 Anglo-Dutch food giant Unilever said it has exceeded 50bn euros (£42bn) in annual turnover for the first time, helped by growth in emerging markets.
It said pre-tax profit rose 7% to 6.7bn euros in 2012 from the previous year, despite higher food and energy costs.
Magnum ice creams and Sunsilk hair care products both became billion-euro brands during the last year, it added.
But it warned "markets will remain challenging, with intense competition and volatile commodity costs".
Shares in the consumer goods group rose by 0.5% in London, after earlier being up more than 2%.
"Emerging markets again contributed double-digit growth helping us exceed 50 billion euros in turnover, an important milestone in our journey to double the size of Unilever from 40 to 80 billion euros whilst reducing our environmental impact," said chief executive Paul Polman.
Unilever's fourth-quarter sales rose by 7.8%. For the full year, the company saw strongest sales growth in Asia and Africa - up 10.6% - and in the US, sales were up 7.9%.
But performance in Europe was "sluggish", the company said, with sales up 0.8%.
"The group's reputation for delivering consistent growth has today received a further boost," said Keith Bowman, an analyst at Hargreaves Lansdown. "A concentration on core brands, product innovation and a drive into the emerging markets are all playing their part."
Earlier this month, Unilever sold peanut butter brand Skippy for $700m (£431m) to the US company behind Spam.
Unilever sells a vast range of brands, including Cif cleaning products, PG Tips tea, Hellman's mayonnaise, Dove soap and Vaseline.