Siemens' quarterly profits drop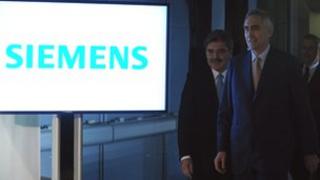 Siemens, the German industrial giant, has reported a decline in quarterly profits, adding it expects no help this year from the weak global economy.
For the three months to December, net income fell 12% to 1.2bn euros ($1.6bn; £1bn) from the same period a year earlier due to a 150m-euro loss in its solar power business.
But revenue rose 2% to 18.1bn euros.
"In an uncertain economic environment, we got off to a solid start in fiscal 2013," it said.
Peter Loescher, chief executive of Siemens, said: "For the rest of the year, we don't expect any tailwinds from the global economy to help us reach our ambitious goals."
Siemens said new orders had fallen as a result of the "macroeconomic uncertainty that affected investment sentiment".
Emerging markets grew 4% year-on-year, accounting for 5.98bn euros, or 33%, of its total revenue for the quarter. The firm added that growth in the Americas had offset declines in Europe