Toys and games: Are we paying for products that teach?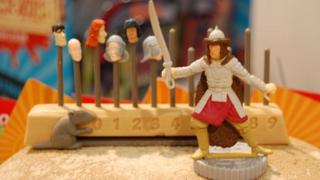 It is every parent's financial nightmare - the expensive birthday toy is discarded after an hour and their son or daughter spends the rest of the day playing with the box it arrived in.
Experts say children have such active imaginations they can make a game out of anything, from boxes and scrap paper to remote-controlled cars and tablet computers.
So why is the UK toy industry valued at nearly £3bn a year, making it the world's fourth largest behind the US, China and Japan? Why were 423 million toys sold in the UK in 2012? Why do toys seem to be relatively recession-proof?
The answer may be that parents believe they are getting value for money if the toys they buy have educational value as well as entertainment value. Learning tablet devices for youngsters were among the biggest sellers of 2012.
Play time
Toys generally act as a prop for children's play. Today's youngsters may have a whizz-bang electronic device instead of a hobby horse, but the same theory applies.
"They play with tyres, cardboard boxes and iPads because they bring their imagination into it. They are incredibly versatile," says Guy Roberts-Holmes, senior lecturer in early childhood education at the Institute of Education.
The key for their development, he says, is that they are given time to play with other children.
He points to a system in Scandinavia that more or less allows free play up until the age of eight, yet their ability to speak English - their second language - still matches that of UK children by the age of 12.
That said, it would be dangerous to suggest that children can work it all out for themselves. Toys are known for assisting with some of the most basic of skills.
Some youngsters who struggle to hold a pencil to write are encouraged to play with Lego to build up these fine motor skills. Throwing and catching a ball is said to help co-ordination with pens and pencils.
'Confidence'
Many of the exhibitors at the UK Toy Fair, currently open at Olympia in London, promote the educational and developmental aspects of their products - even if these are not immediately obvious.
"They are primarily designed for fun, but fun can also be derived from toys that are educational in a disguised manner," says Carl Cliss, marketing director for Winning Moves.
"Our best example of that is Top Trumps."
The card game helps with literacy, numeracy and comparisons, he says, and also assists with confidence.
"Youngsters wants to demonstrate to their mum or dad that they know more about dinosaurs, for example, than their parents do. It is quite important that they feel they can beat them with their knowledge."
Prof Jeffrey Goldstein, a psychology expert with the National Toy Council, says that a variety of different toys can help a child's brain to develop.
"I would rather buy three toys for £3 each than one £9 toy," he says.
These can range from magic tricks and snakes and ladders to help with mathematics skills, to music and board games that they can play with their parents, and even video games that come without instructions but they learn to use through trial and error.
Collecting heads
Some toy creators put a lot of weight behind research into their products, partly to ensure they will help children to develop but also to protect their bottom line.
Toy designers Worlds Apart have a lab with a one-way mirror at their Cornwall headquarters that allows them to observe how children interact with toys they are developing.
The business, which started by designing kites 30 years ago, brought in physiotherapists to help develop a wobble deck balancing game to help prevent obesity.
John Stewart, who has the envious job title of director of fun, says: "Parents want their children to be active but were concerned about letting them out to play.
"We tried to find a way of developing children's motor skills and balance in the home without them smashing the place up."
Some of the firm's most high-profile toys are the Horrible Histories figures. They are overtly educational.
"History is a school subject so parents and teachers love it, but boys hate it. So, Horrible Histories makes it gory and entertaining," says head of design Neil Gray.
The games include a challenge for Genghis Khan to collect enemies' heads, and players fire plastic rotten pigs at each other.
Retro toys
Despite all this research, parents still look at price and may lean towards toys that they believe helped their own development.
Sarah Campbell, sales director at retro-toy supplier House of Marbles, says grandparents are especially fond of wooden toys.
"Grandparents might buy a spinning top, even if the boy or girl is screaming for an iPad," she says.
She adds that this "flight to safety" is also true of retailers in tough economic times, as they are confident of selling well-established toys.
Some exhibitors at the toy fair suggest parents are more tempted by purely educational products in the US than they are in the UK.
Yet, Helen Ferri, of supplier Learning Resources, says UK parents are still happy to spend a premium for high-quality educational toys.
Not that the business is ignoring the squeeze on family finances - it has just launched Money Bags, a game to teach about budgeting, with plastic coins given the thumbs-up by the Royal Mint.