Return to sender: Why the Christmas boom can be a retail headache
By Michael Millar
Business reporter, BBC News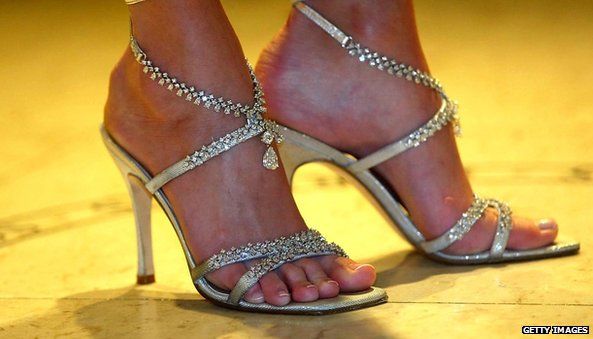 "If the shoe fits, wear it," is a simple enough metaphor - but for Jessica Hodkinson, from Daniel Footwear, it is at the root of an uncomfortable problem.
Her company, like many others, is striving to build a strong presence on the internet, as online sales boom and the High Street shudders.
"Everyone has a different size of feet - it's impossible to make one style of shoe that fits everyone and that makes shoes one of the hardest things to sell online," she says.
Like many retailers, Jessica's company has benefitted from online sales - one of the few bright spots on the retail landscape.
But as online shopping grabs an ever-bigger slice of the retail market another problem presents itself - an exponential growth in returns.
Daniel Footwear sees about one in every three pairs of shoes bought online returned, a lot more than when they are bought in the company's outlets, says Jessica.
The rate of online return differs based on industry and location, but analysts say anywhere between 25% and 50% is commonplace.
An online sales spike over the recent festive period might have merited a celebratory drink, but January is hangover time as items come flowing back through the door.
Dealing with returns is an age-old issue for retailers, but the boom in online sales presents new dilemmas that would not have troubled traditional shops.
Most obvious is the very nature of online shopping.
"You cannot try, touch or smell the product," says Eric Abensur, group chief executive of Venda, a provider of e-commerce solutions.
"And people are getting more sophisticated in their shopping online. Once they bought one item, now they buy two and return the one they don't like," he adds.
"This makes the level of returns online significantly higher."
Other problems include regulations specific to online sales, such as those relating to distance selling in the EU, which dictate retailers have to offer cash for returns rather than just store credit.
There is a cultural element to the problem as well, as another shoe seller has found.
"Returns levels for Germany are considerably higher than other countries across Europe - up to three times the level seen in France and Spain," says Dave Elston, head of eCommerce, Europe, at Clarks shoes.
"This can largely be attributed to Germany's catalogue shopping heritage," he says.
"We see a very high number of multiple pair orders in Germany, and these multiple orders more often consist of colour or style variations, as opposed to multiple sizes."
Some companies now release trading figures that exclude anticipated returns, particularly in the wake of the period covering Christmas.
This allows them to manage investors' expectations as they gauge actual levels of online returns.
To stem the tide, many firms are working hard to make their websites offer as accurate a picture as they can.
"We have started to introduce new photography online, such as 360-degree views," says Jessica, from Daniel Footwear.
"This enables customers to spin a chosen product around, zoom in and take a closer look before purchasing," she adds.
"Product descriptions have also been improved, giving customers an in-depth summary of the products bought online."
Others use augmented reality to allow customers see themselves interacting with items online.
But even Jonathan Chippindale, chief executive of augmented reality firm Holition, warns this technology has its limits at this stage of its development.
"Augmented reality is very good with hard items," he says.
"For example, we are very good at tracking faces to show you what you would look like wearing a particular make-up, or perhaps holding a handbag on your arm.
"But a lot of this is about making people feel and look beautiful - and the technology has to live up to that," he adds.
"In terms of clothes, the way the cloth maps the body has to look as realistic as possible. I've seen technology where people are 'trying on a shirt' and it looks like body armour."
One benefit companies have with online retail is that is generates a vast amount of data in terms of shopping habits.
Using analytics programmes, companies can use the reams of statistics they gather to predict when and where returns will come.
If someone buys two identical items but in difference sizes, for example, it's a good bet that one will be coming back.
Some firms use this data to second-guess customers, offering them items they think will suit their patrons - hoping to minimise returns at the same time.
But there can be a sting in the tail of this strategy, says Andrew McClelland, the chief operating officer for IMRG, a membership group for the e-retail industry.
"Whatever my behaviour has been in the past is not an indicator for the future - in this way data can be fairly two-dimensional.
"What if they're buying for someone else, or have perhaps changed size?
"Once you get into saying, 'We've seen you buy this size, here's what you should want,' you're getting into spooky territory," he says.
A fact of the e-retailer's life is that for all the items that rush off the shelves and down the internet superhighway, a fair few will only stop for a comfort break before dashing back again.
But making this journey as comfortable as possible is a key facet in turning what appears to be a negative, into another sales opportunity.
"Retailers need to fundamentally understand whether they believe returns are good or bad," says Chris Biggs, partner in the retail practice at The Boston Consulting Group.
"If companies minimise returns through tough policies, costs are kept down, but customers can be turned away.
"Some leading retailers now use super-easy returns as a key part of their customer proposition - and are finding the economics work.
"Free, simple returns mean customers can safely over-purchase, and they often end up keeping more items than they had originally planned."
If this approach works, then the cost of returns could conceivably even become part of the marketing budget.
Online retailers have to address all these issues if they are to make customers feel like Cinderella rather than the Ugly Sisters when Prince Charming (well, the postman) comes knocking - whether they are in the shoe business or not.
Related Internet Links
The BBC is not responsible for the content of external sites.