Wonga goes international and defies its critics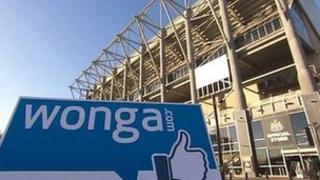 The online money lending business Wonga is beginning to expand internationally.
The company, which is regularly attacked by its critics for its lending practices, has started offering short-term loans to customers online in South Africa, Canada, Poland and soon it will set up in Spain.
Here in the UK it has now lent £2bn to more than one million customers since it started back in 2007.
And last year's launch of a business lending money to small businesses, for up to one year, is doing well, says the chief operating officer Niall Wass.
"I'm not really ready to share too many statistics about it right now, but what I can tell you is that we think there is a very large market both in the UK and other territories," said Mr Wass.
"The user case there is really for short-term cash flow needs.
"Two-thirds of the UK small businesses we see have had working capital issues over the last year, and we think this is pretty ripe for those guys," he adds.
Business loans
The continued reluctance of banks to lend as freely as before has given Wonga a good opportunity.
The firm says its key appeal is being able to make a decision on a business loan in 15 minutes, rather than the usual bank approach of asking a borrower to come to a meeting in a few weeks' time, with a written business plan, to try to justify the loan.
But Mr Wass says Wonga is still fine-tuning its online credit scoring system, which makes the decisions about the credit-worthiness of potential business borrowers.
"We are still refining our algorithms [the arithmetical rules underlying the lending decisions] all the time, so we are still declining a large number of people who are applying, and over time as we learn more we will open up what we call our "accept rates" and take a lot more," he says.
As its business loans are for £3,000 to £15,000, for up to a year, its would-be borrowers are typically small businesses which need some quick cash, for instance to buy stock at a discount, not to build a factory or an entire business.
Looking abroad, the company has its eye on the opening up in the US.
"The economy is massively driven by small, privately owned businesses, so that makes a lot of sense, they are early adopters of technology, so that is one that we are considering," says Wass.
Foreign habits
Lending money in foreign countries can be a completely different kettle of fish to operating in the UK.
There are different rules and regulations surrounding money lending, and cultural attitudes to borrowing vary enormously.
For instance, Wonga is not going to try setting up in either France or Germany because people there are much more reluctant to borrow in the first place.
Meanwhile in Canada, where the company has now started operating, people are typically paid every two weeks rather than once a month.
So the lender has had to adjust.
"We changed to a 45-day product, so people could borrow for up to three pay cycles; there is legislation in each of the different provinces that can limit the cost of borrowing to $21 per hundred dollars borrowed, so we have to work within that framework," Wass says.
"There are different sources of data in every market which drive the compilation of our algorithms and it takes us some time to learn the consumer habits, learn what data is predictive and learn how customers want to use our products."
Hire purchase
Back in the UK, Wonga has also started offering loans via some retailers' websites.
For example you can buy a bed online for, say, £269.50 from the Cotswold Company and instead of paying in one go via a credit card, you can pay a transaction fee upfront of £18.86, followed by three monthly instalments.
This "pay later" system is the online version of hire purchase, the once standard method that most people used to use to pay for domestic items like furniture and white goods and which is still often used to finance car purchases.
Why is this a big deal for Wonga?
"The pay later product has application not just in the UK, but particularly in many developing markets where forms of consumer credit are not just there," says Wass.
As for personal loans, its iPhone app is being downloaded by a thousand people a day, indicating the growing popularity of its business.
Apology
What is intriguing about Wonga is that it seems to be impervious to an awful lot of bad publicity, which continues to dog the business.
A row with some disgruntled fans of Newcastle United is still rumbling on, following last year's deal in which Wonga become the club's main sponsor.
The lender had to apologise to one of its most high-profile critics, the Labour MP Stella Creasy, last November when a Wonga employee called her "nuts" and "a raving self-publicist" on the social media website Twitter.
And earlier last year the firm received a public slap in the face from the Office of Fair Trading (OFT) because it had used over-aggressive debt collection methods when trying to get its money back, a few years ago, from some borrowers it had suspected of fraud.
Wass says its strategy is to engage with critics and he points to a part of its website "Open Wonga" which publicises business data about itself, which some other firms would probably keep confidential.
Interest charges
The most common charge against the firm is still that its interest rate is extortionate,
Although it is a low sounding 1% a day, it amounts to an annualised percentage rate (APR) of 4,214%.
Wonga says this is a ridiculously misleading statistic with which to compare it to other lenders such as banks.
Its loans have an initial ceiling of £400, are short-term only with a maximum length of 40 days, and there can be no more than three renewals or roll-overs, assuming the extensions are approved by the company in the first place.
Meanwhile 62% of all first-time applicants are rejected and Wonga's interest charge is capped at 60 days if someone fails to repay.
With a default rate of 7% among borrowers, similar to that of credit cards, the business has become very profitable, making £46 million in 2011.
But the issue of interest charges will not go away.
The OFT has been investigating the payday loan industry, again, and when its report is published later this year it may be another challenge to Wonga's way of doing things.
Niall Wass says even if it recommended a cap on interest charges, Wonga would still thrive in the UK.
"There are other regulatory regimes around the world that have different pricing mechanisms, in which we are operating," he says.
"There are different ways of doing it, we can adapt to that; but we fundamentally don't think that price capping is the right way to go, we think it constrains consumer choice."