China firms to invest $2bn exploring shale gas reserves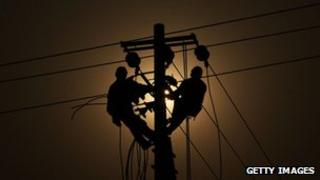 China has stepped up its efforts to explore shale gas reserves as it looks to meet growing energy demand at home.
It has awarded exploration rights on 19 shale gas areas to 16 firms.
The firms have committed to invest 12.8bn yuan ($2bn; £1.3bn) to search and develop these areas, or blocks, the Ministry of Land and Resources said.
Demand for energy in China has surged in recent years as its economy has expanded. The country is now the world's biggest energy consumer.
However, China relies heavily on imported power and energy sources, something that makes it susceptible to market and price movements, as well as supply issues.
Beijing has been trying to secure new supplies of energy and according to the ministry's estimates the country has around 25 trillion cubic metres of shale gas reserves.
Government supervision
China and other energy hungry countries have been on the hunt for alternative energy sources, to move away from being heavily reliant on coal and fossil fuels.
Shale gas has emerged as one of the viable and economical options.
However, there are concerns over the process by which the gas is extracted, known as fracking.
The technique involves pumping fluids into a well to recover natural gas from shale rock.
It has been linked to minor earthquakes, and there are concerns about its impact on the environment.
However, the ministry said that it will be supervising the search and exploration at the block and will monitor the impact on the environment.