Dutch Finance Minister Jeroen Dijsselbloem to head Eurogroup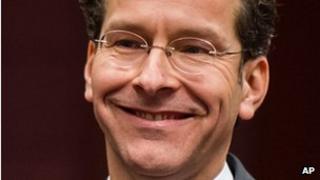 Dutch Finance Minister Jeroen Dijsselbloem has been elected as the new head of the Eurogroup, replacing the outgoing Jean-Claude Juncker.
The 46 year-old, who has been head of the Dutch Finance Ministry for two months, was expected to take over.
He said he hoped he would be able to focus on longer-term policies rather than just crisis management.
The Eurogroup is made up of the finance ministers from the 17 nations that use the single European currency.
Mr Dijsselbloem insisted the eurozone should continue with economic reforms and austerity measures designed to resolve the debt crisis.
In a letter to the Eurogroup before he was elected to lead it, he said: "We now need to keep the momentum going, to ensure we retain the confidence we managed to regain in a lasting manner".
"Our focus needs to shift from crisis management to delivering and implementing sound medium-term policies."
Franco-German support
The French Finance Minister Pierre Moscovici was quick to let Mr Dijsselbloem know he will have a tough job matching the achievements of his predecessor, Jean-Claude Juncker.
"We cannot resign ourselves to Europe being in a spiral of austerity and recession," he said.
"Jean-Claude Juncker knew during his period as head of the Eurogroup about representing a balanced presidency, balanced between the countries in the north and in the south, between the requirements of budgetary consolidation and hopes of growth, balanced also between perhaps a vision from Germany and from France," he said.
The German Finance Minister Wolfgang Schaeuble has backed his Dutch counterpart to take over the leadership of the Eurogroup for some time.
"You know that I supported Jeroen Dijsselbloem's candidacy from early on, because I believe he would make a good head of the Eurogroup," he said.
"And I find it good... that we use the change in Eurogroup head as an occasion to lead a fundamental debate about the working methods of the Eurogroup."
The Netherlands is one of the few eurozone countries that have retained the highest credit rating throughout the region's debt crisis.
The nation has joined Germany and Finland in taking a hard line on the need for austerity in countries that are benefiting from eurozone support, such Greece, Ireland, and Portugal.