India raises gold import tax to tackle trade deficit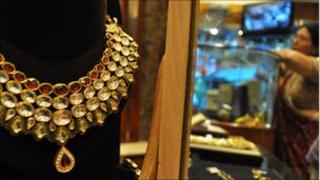 India has raised import duties on gold by a half to try to rein in demand for the precious metal.
The import tax is rising from 4% to 6%, a year after doubling from 2% to 4%.
The Indian government wants to curb imports of gold to try to help reduce the country's current account deficit, which hit a record 5.4% of total economic output between July and September last year.
India is the biggest importer of gold in the world.
Many Indians buy gold jewellery and coins to protect the value of their money in the face of inflation.
"It is difficult to establish the impact [of the tax] on the deficit and by how much it will come down, but there will be some moderation in gold demand," said Economic Affairs Secretary Arvind Mayaram.
"The duties will be reviewed after some time if there is a moderation in the quantity of gold that is imported into the country."
Last year's rise in import duty only had a temporary impact on demand, and some analysts said the latest move would have little effect.
"The government's revenue will increase, but imports won't diminish," said Mohit Kamboj, president of the Bombay Bullion Association.