Snow piles on problems for the UK economy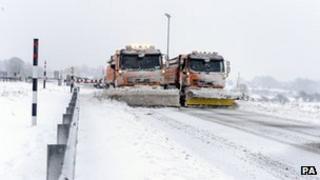 "It's not nICE for the UK economy" was the headline on one City analyst's research note about the bad weather's impact on growth.
There seems little doubt that the blanket of snow covering most of the UK will have a negative effect on the economy. The question is, though, how serious will that impact be?
The insurance group RSA estimates that the problems of the past few days will cost the economy about £470m a day, based on the massive travel disruption.
In December 2010, the Big Freeze caused a contraction of the economy, according to the Office for National Statistics. The economy shrank by 0.5% in the last three months of 2010. Without the huge snowfall, growth would have remained flat, the ONS said.
Back in 2010 it seemed like the economy had ground to a halt, and we haven't reached that this time (although it may feel like it to travellers camped out overnight at Heathrow Airport).
Steve Agg, chief executive of the Chartered Institute of Logistics and Transport, said the country appears to be much better prepared for this latest spell of bad weather.
His organisation's members are the firms that deliver the food to the shops, parcels to households, and supplies to factories. And so far, the system is holding up far better than a couple of years ago, he said.
"Local authorities, I think, are doing a great job at the moment because they have the right amount of salt and grit in stock. They have got decent new equipment, and they appear to be using it," Mr Agg said. "The roads have been treated very much better this time round as a result of lessons learned in recent years."
He said there was a bit of panic buying in the shops last week ahead of the forecast snow downfall, which pushed some delivery cycles out of kilter. "So they [delivery firms] have had to be light on their feet to make changes to their business production schedules," he said.
Fragile state
With food especially, if customers cannot get to the shops or retailers do not have stock, then there will be an economic impact. "If you don't buy today, you are not going to buy twice as much tomorrow to make up for it, so there are losses," Mr Agg said. But better planning all round will lessen the economic downside, he believes.
However, it does not help that the UK economy is already in a fragile state, underlined by last week's weak retail sales data for December and the collapse into administration of HMV.
Many economists believe official growth figures for the last three months of 2012, to be published on Friday, will be dismal, possibly showing that the UK economy shrank.
That points to a weak start for the January-March quarter of 2013. And if the UK suffers two consecutive quarters of negative output, the economy would be back in recession for the third time in five years - the so-called triple dip.
Peter Spencer, chief economic adviser to the Ernst & Young Item Club, a forecasting group, believes the UK is "sliding towards" a triple dip, and that the bad weather will be the deciding factor. "This [weather] is significant enough to have economic effects," he said. "If the fourth-quarter figures are negative, and if this very bad weather lasts, then the first quarter will also be negative. We will end up with a triple dip."
The cumulative impact of disruption can soon magnify into serious economic damage. For pubs and restaurants, January is traditionally a slow month, so people's reluctance to venture out in bad weather won't help.
Winners and losers
Work on construction projects will slow or be stopped altogether, as continuing in bad weather can be unsafe. Small firms can suffer particularly bad, as the absence of even one or two key staff can put a complete halt to work. An executive not making that key meeting overseas because of a delayed flight could mean the loss of a contract - and jobs.
Of course, there are always winners as well as losers. Someone who does not go to their out-of-town supermarket will instead spend money in their corner shop.
Retailers probably saw a run on winter clothes last week ahead of the forecast snow and ice. More people have the facility to work from home. And a spell of cold weather gets people thinking about their summer holidays.
Howard Archer, chief UK and European economist at IHS Global Insight, points out that many companies will be able to make up lost production because they have not been working at full capacity. And, he says, the power companies will be experiencing a surge in activity.
The winners aside, though, history shows that bad weather is always bad for the economy, he said. There was significant snowfall in the first three months of 2012, the fourth quarter of 2011 and the fourth quarter of 2010. All three quarters saw a GDP contraction.
"It is evident that the economy is struggling markedly to grow at the start of 2013 without any hindrance from snow. Clearly, the longer that the snow and ice lasts, the greater will be the negative impact on the economy," Mr Archer said.