Financial firms in the UK 'feel optimistic'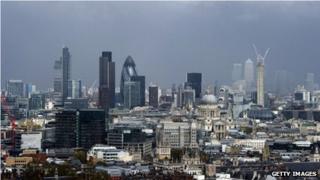 Optimism among UK financial firms surged at the end of 2012, even though job losses in the City are expected to continue, a survey has indicated.
Only trading firms expected business to get worse still, according to the latest quarterly survey by industry body the CBI and accountants PwC.
The bulk of firms shrank their workforce in the last three months and will do so again in the next three.
However, they face a shortage of regulatory compliance officers
City firms said that the lack of compliance officers was limiting their growth, even though other types of staff are still being laid off.
"There is rising concern that staff shortages are likely to limit business and investment over the next year, as well as the challenge of raising finance," said Matthew Fell, the CBI's director of competitive markets.
Uncertainty over what form the new regulatory environment would take was also acting as a barrier to growth among investment managers, the survey's authors claimed.
The financial services sector has had to deal with major new regulations in the UK and abroad following the 2008 financial crisis and a subsequent string of scandals.
In the last three months of 2012, the 94 companies surveyed said on balance that business volumes had fallen for the second quarter in a row, but profitability had improved.
Expectations for the coming three months were high among banks, insurers and investment managers, and a large number of firms said they planned to increase their spending on marketing.
But more of them on balance said they would cut investment in land, buildings, machinery and vehicles, in line with their shrinking number of employees.
The survey was carried out in November and December last year. Since the New Year, stock markets have rallied about 5% as fears over the eurozone crisis, the downturn in China's economy and the economic policy deadlock in Washington have abated.