Crest Nicholson housebuilder plans stock market return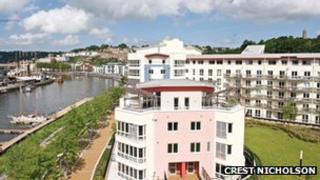 Housebuilder Crest Nicholson plans to return to the stock market, more than five years after being taken private at the height of the financial crisis.
The firm will use the expected £50m proceeds from the listing of new shares to repay debt. Its owners also hope to sell £150m of their existing shares.
Chief executive Stephen Stone said the listing coincided with a "gradual recovery" in the housing market.
The firm also revealed it had returned to profit last year.
Crest Nicholson, reported profit before tax of £62.1m for the year to October 2012, after a £27m loss the year before.
Mr Stone said stronger rates of sales, as well as an "encouraging" pick-up in mortgage lending had driven its recovery.
The company, which celebrates its 50th anniversary this year, was taken taken private by Scottish entrepreneur Tom Hunter and mortgage lender HBOS in 2007 and is now majority owned by US distressed investment fund Varde Partners.
The company said its initial public offering, expected to be completed in February, would also include a sale of existing shares by some institutional shareholders, including Varde Partners and Deutsche Bank.
It said it expected the so-called free float - the number of shares available to buy - to be a minimum of 35% of the issued share capital of Crest Nicholson.