Shopper numbers fell in December, says BRC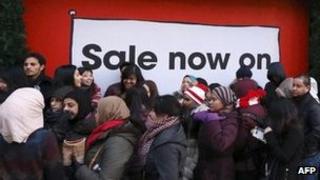 The number of shoppers on UK High Streets fell last month, according to the British Retail Consortium (BRC).
Its latest monthly footfall monitor said shopper numbers declined 1.2% in December, compared with a year earlier.
The BRC data comes after official figures revealed that UK retail sales fell last month.
The Office for National Statistics said that sales in December were 0.1% lower than November, but clothing and food sales particularly struggled.
The BRC said that the decline for the month as a whole came despite a rise of 7.5% in shopper numbers in the immediate week before Christmas.
Helen Dickinson, director general of the BRC, said: "Weak spending power is keeping people away and compounding long-standing difficulties in many of our town centres.
"This month's retail failures confirm the challenges are far from over."
On a geographical basis, the BRC said that Wales saw the biggest fall in shopper numbers, down 11.5%, followed by the east of England, 7.1% lower.
For the south west and north of England, footfall both fell by 4.8%, while in the East Midlands it was 1.2% lower.
However, shopper numbers were up in some nations and regions of the UK, rising 6.2% in Scotland, by 3.1% in London, and 0.6% in Northern Ireland.
The BRC data follows a number of high profile High Street casualties. HMV, Jessops and Blockbuster have all been forced into administration so far this year.