HMV: Retailer Game confirms it wants to buy some stores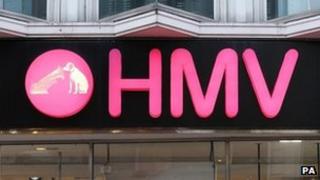 Retailer Game has revealed that it is one of the 50 separate groups or individuals who have expressed an interest in buying all, or part of HMV.
Game has asked HMV's administrators, accountancy firm Deloitte, about the possibility of purchasing an undisclosed number of HMV stores.
HMV went into administration on Tuesday of this week.
The music, DVD and games retailer has 223 UK stores in total, and a workforce of about 4,000.
According to reports, Game, which itself exited administration in April of last year, could bid for up to 45 HMV locations.
Game, which sells computer games and consoles, is owned by private equity group OpCapita.
Deloitte said that the 50 parties interested in buying all or part of HMV included other retailers, private equity firms, and wealthy individuals.
Retail restructuring firm Hilco, which owns unconnected HMV Canada, is also said to be one of the 50.
HMV's administration follows after the company failed in recent years to cope with increasing competition from online rivals, the supermarkets, and illegal music and film downloads.