Smartphone card payment systems seek small firms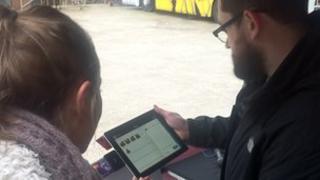 A new solution is being offered to small businesses who want to give their customers the chance to pay by credit or debit card, but do not want to be tied in to a monthly payment contract.
Several firms are now offering them the chance to take these payments using a dongle on their smartphone or iPad. The start-up costs are either zero or minimal, and there is no monthly fee, but the business pays a percentage of each transaction.
iZettle is one of a number firms offering the small card-reader that plugs into iPhones, iPads and a number of Android smartphones or tablets.
The customer hands over their card to the stallholder - or plumber or window-cleaner - and it is swiped through the device. Mastercard and American Express card holders then sign for their purchase.
Visa users have to hand over their mobile phone numbers and tap in security details on their own phones. This may change in the near future as companies introduce chip and pin technology which Visa will accept.
The merchant pays a commission of 2.75% per transaction, and the consumer gets to use their plastic rather than cash in new places.
Tom Reaney runs the burger stall "Burger Bear" in Shoreditch in London, and has recently signed on with iZettle, as he told Radio 4's Money Box programme.
"We don't have the usual amenities restaurants usually have, so I always used to take cash," he says.
Mr Reaney adds that it would also have been too expensive to sign a fixed monthly payment contract to get a normal card reader.
He believes around one in five of his customers now opts to pay with a card
"I sell maybe 40 burgers to one office in one day and that wouldn't have been feasible without the use of cards."
Security changes
Some shoppers Money Box spoke to said they would be worried about the security of their cards if they were asked to put them into someone's iPad or smartphone.
But the traders say the system is secure and customers can request a receipt is sent to their own smart phone with the details of the transaction.
iZettle says 15,000 traders signed up with it in November. But several other firms are also fighting for their share of the market.
Sum Up offers a similar service. It launched five months ago, and as well as its UK operation it says it is expanding in nine other countries.
Jim Stewart is a director of Surrey-based Butta, a firm which makes eco friendly wax for skis and snowboards. He does occasional trade shows so did not want to pay a monthly rental charge for a traditional portable card terminal.
"I think it's definitely going to take off, the world is going that way," he says. "The money has always appeared in my bank account, no transactions have been declined, my accountant is happy, it's all been good."
Payleven, based in London and Berlin, is another firm offering a service where Mastercard and American Express cards holders sign when making a purchase. It says it will be launching the first chip and pin version of this payment for smartphones running Google's Android software or Apple's iOS in February.
Money Box is broadcast on Saturdays at 12:00 GMT on BBC Radio 4 and repeated on Sundays at 21:00 GMT.
You can listen again via the BBC iPlayer or by downloading Money Box podcast.