Morgan Stanley swings back to profit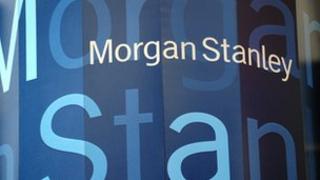 US bank Morgan Stanley has said it swung back to profit in the fourth quarter of 2012, a turnaround it described as a "pivot point".
It reported a net profit of $481m (£302m) in the last three months of the year, compared to a loss of $275m in the same period a year earlier. Revenue jumped 37% to $7.5bn.
The bank, which has been shedding staff, earned more in fees for financial services.
Shares jumped 5.5% in early trading.
The profit included a net tax benefit of about $155m.
Rival US banks Goldman Sachs and JP Morgan Chase both reported sharp rises in profits on the back of strong performances by their investment banking arms earlier this week. Citigroup also said its profits rose despite $2.32bn in one-off charges.
But Bank of America reported a decline in quarterly profits after it took another financial hit on bad mortgage debt.
'Meaningful progress'
Over the year, it cut nearly 4,500 jobs, or 7% of its workforce. It plans to cut another 1,300 jobs, with cuts focused on the investment bank and senior-ranking employees.
"After a year of significant challenges, Morgan Stanley has reached a pivot point," said James Gorman, the bank's chairman and chief executive.
"We demonstrated meaningful progress in our wealth management joint venture, reaching the highest pre-tax margin since the inception of the joint venture."
The Wall Street Journal reported this week that the bank plans to change how bonuses are paid to higher-paid bankers.
Bonuses, which are usually awarded in the first couple months of the year, will be paid in four instalments spread over almost three years, instead of one lump sum, the Journal reported.
Compensation was $1.5bn compared with $1.6bn in the same period of a year before, it added.