Algeria oil industry: 'Dark cloud' over production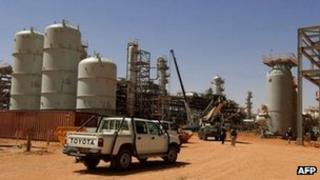 The situation with oil workers taken hostage in Algeria puts a "dark cloud" over the country's production, an international energy body has said.
Several hostages have been killed.
The International Energy Agency said that "political risk writ large" dominates much of the energy market, "and not just in Syria, Iran, Iraq, Libya or Venezuela".
The IEA also raised its forecast for global oil demand this year on the back of Chinese and US demand.
"The 16 January kidnapping and murder of foreign oil workers at the In Amenas gas field has cast a dark cloud over the outlook for the country's energy sector," it said.
"Production at the field was shut in, including an estimated 50,000 barrels per day of condensate."
The In Amenas field is operated as a joint-venture between Algeria's Sonatrach, Norwegian operator Statoil and UK energy giant BP.
The agency raised its forecast for global oil demand this year following greater demand in the last three months of 2012 by the two biggest economies in the world. The forecast is now 240,000 barrels per day more than its estimate in December, up to 90.8 million barrels per day - 1% more than in 2012.
Islamist militants are continuing to hold a number of hostages at a gas facility in the Algerian desert. One Briton was killed when militants ambushed a convoy on Wednesday.
BP said hundreds of workers from international oil companies had been evacuated from Algeria on Thursday and that many more would follow.