UK retail sales fall in December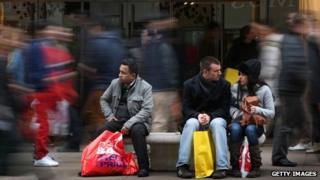 UK retail sales fell at a seasonally-adjusted 0.1% in December from the month before, official figures suggest.
Compared with a year earlier, the quantity of goods sold rose a worse-than-expected 0.3%, according to the Office for National Statistics (ONS).
This was the slowest annual growth rate for a December since 1998 - except for December 2010, when sales were hit by heavy snow, the ONS said.
Clothing and food sales did notably badly, but online retailers did well.
The ONS said that while sales continued to be higher than a year ago - a trend that began in August - this growth had lost its momentum.
In the bigger picture, sales have stagnated since mid-2007. The December 2012 figure was only 2.4% higher than the volume of sales recorded in December 2007.
The value of goods sold in December was 0.1% lower than November, and 0.7% higher than a year ago, indicating that the price rises faced by shoppers came to a halt at the end of the year - although this could also reflect consumers trading down for cheaper versions of the goods they want.
Shopping from home
The figures came as a surprise to some analysts, who had been expecting stronger growth.
Many High Street retailers had reported a last-minute surge in shoppers the last weekend before Christmas, and bumper Boxing Day sales, following what had otherwise been a fairly quiet run-up to Christmas, not helped by the rain.
The ONS data confirmed that online retailers continued to increase their share of business. About 10.6% of sales were carried out online during the month, up from 9.4% a year earlier.
That share was down just 0.1 percentage points from November - a much smaller fall than usually occurs as this time of the year, when more shoppers typically head for the High Street for their Christmas purchases and for the Boxing Day sales.
The data tallies with figures from research firm Experian that suggested the number of visits to retail websites rose 86% on Christmas Eve, 71% on Christmas Day and 17% on Boxing Day compared with a year earlier, as many chains began their online sales before Christmas.
Total online sales were up 15.5% from a year earlier, led by a 36% increase by websites of department stores such as John Lewis.
"This was a very online Christmas," Rahul Sharma, retail analyst at Neev Capital, told the BBC.
"People want to be able to compare prices online. They like the ability to shop online, maybe picking up in the store, and the retailers who can adapt to that the best are the ones who are really going to win."
'More to come'
Weak sales, and the migration of business to online competitors, have felled a number of big High Street names in recent weeks.
Electricals chain Comet and camera retailer Jessops have ceased trading, while music vendor HMV and video rentals firm Blockbuster face uncertain futures, having gone into administration.
"For all that we've had very strong trading statements from the likes of Dixons, Argos and John Lewis, there is a soft underbelly of the likes of HMV, Jessops, etc," said Mr Sharma. "I suspect there's more of those."
With more people shopping online, it seems fewer felt the need to use their car. The volume of petrol and diesel sold in December fell 6.6% from a year ago, despite ticking up 1.8% compared with November.
Stripping out the effect of these lower car fuel sales from the data, total sales rose a more respectable 1.1% from a year ago.
Other sectors to suffer included predominately food stores, where sales volumes fell 1% from the year before, and textiles, clothing and footwear stores, where sales were down 3.5%.
Weak pound
The weak sales data "will scotch any hopes of a consumer-led recovery, and are another strong hint that the economy is contracting again," said currency trader Chris Redfern at Moneycorp.
He said it would add to fears that the UK may be on the verge a triple-dip recession, following a strong rebound in activity over the summer.
Next week, the ONS is widely expected to confirm that the UK economy shrank in the last three months of 2012.
If the economy also shrinks during the current quarter, it would mean the country had experienced its third recession in a row without recovering to its peak level of activity recorded in 2007.
The poor sales figures also strengthen the case for more money creation by the Bank of England, as well as a possible change in its inflation target to allow for higher price rises - changes that would likely weaken the pound further.
The pound has already been falling sharply in recent days, reaching a nine-month low against the euro, on fears over the state of the UK economy and a possible bust-up with the EU.
"The markets had been primed on Friday for a gutsy speech from the Prime Minister about Britain's relationship with Europe," said Mr Redfern. "Its cancellation has left them searching in vain for other good news."