Sony sells Manhattan headquarters skyscraper for $1.1bn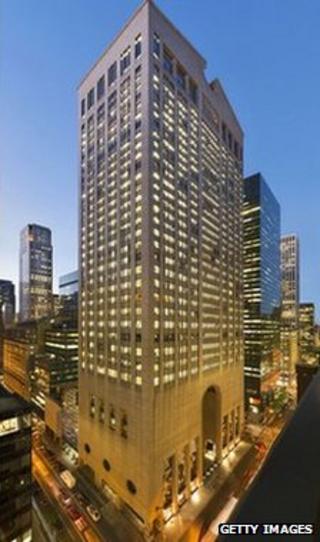 Sony is to sell its US headquarters in Manhattan for $1.1bn (£690m).
The skyscraper on Madison Avenue will be bought by the Chetrit Group, a major family-owned New York property group.
The news, as well as further weakening of the yen's value, lifted shares in the troubled Japanese conglomerate 12% on the Tokyo stock exchange on Friday.
Sony admitted that the motivation for the sale was to raise much-needed cash, expected to equal $770m, after debts on the building have been repaid.
The firm will also record a windfall profit in its accounts, as the building is being sold at a gain of £685m, compared with the price that Sony originally paid for it in 2002.
The firm said that it will continue to lease the building back for another three years following the sale, which is expected to be completed in March.
The skyscraper houses 1,500 Sony employees, including its music and films businesses.
Ignominious decline
The 37-floor building was first constructed for US telecoms group AT&T in 1984, at a time when Sony was in the ascendant thanks largely to the success of the Walkman.
The company has since fallen back to earth, and last year its share price was trading below the 1,000-yen level for the first time in over two decades.
On Friday, its shares ended the day in Tokyo at 1,149 yen - a fraction of their peak of 16,950 yen at the height of the Japanese stock market bubble in 2000.
Having recorded a loss every year for the last four years, Sony has embarked upon a major restructuring of its business, including the sell-off of its chemicals division, and cutting 10,000 jobs.
The company has failed to compete with foreign competitors - sophisticated US firms such as Microsoft, Apple and Google, and cheaper Asian competitors such as LG.
The company - like other major Japanese manufacturers such as Panasonic and Sharp - has not been helped by the yen, which continued to strengthen before, during and after the 2008 financial crisis, and has only recently begun to lose some of its value.
In November, Sony suffered the ignominy of having its credit rating downgraded to "junk" by Fitch - indicating that the ratings agency has serious doubts about whether Sony will be able to repay its debts.
As well as its US regional headquarters, Sony has also indicated its willingness to sell the building housing its television business in Tokyo.