Goldman Sachs and JP Morgan profits rise sharply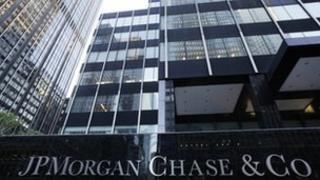 Top US banks Goldman Sachs and JP Morgan have reported sharp rises in profits on the back of strong performance in investment banking.
Net profits at Goldman Sachs in the final quarter of the year rose threefold to $2.9bn (£1.8bn) from a year earlier.
JP Morgan booked profits of $5.7bn (£3.6bn), up 54% on the $3.7bn the bank made a year earlier.
It also said the total 2012 pay for boss Jamie Dimon would halve from 2011.
He will receive $11.5m, which includes a salary of $1.5m - unchanged from 2011 - and a bonus of $10m in share options, down 54%.
The bank also said it had tightened up risk controls in light of the multi-billion dollar losses on derivatives trades by London-based trader Bruno Iksil, known as the London Whale, which it suffered last year.
On Tuesday this week, US regulators said the bank had to revamp its risk management.
'Challenging year'
Revenue at Goldman Sachs for the final quarter of 2012 was up 50% to $9.2bn, with net profits at the investment banking division up 63% at $1.4bn.
Net profit for the full year was $7.5bn, up from $4.4bn in 2011.
However, the amount set aside in pay and bonuses for Goldman staff for the quarter fell 11% to $1.98bn.
"While economic conditions remained challenging for much of last year, the strengths of our business model and client franchise, coupled with our focus on disciplined management, delivered solid performance for our shareholders," said the bank's chairman and chief executive Lloyd Blankfein.
Analysts said the strong results showed Goldmans was back on track following the financial crisis.
"The fourth quarter reminds us a little of the old days and should give investors confidence in Goldman's future earnings power," said Glenn Schorr at Nomura.
'Record income'
JP Morgan saw final quarter revenues rise by 10% to $24.4bn, with profits boosted by strong growth in lending and deposits, and lower provisions for bad loans.
The bank allocated $656m to cover bad loans during the period, significantly less than the $2.2bn set aside in the final quarter of 2011.
The bank's investment banking division performed particularly well, with net income more than doubling to $2bn.
Net profit for the whole of 2012 was $21.3bn, a record for the firm.
"For the third consecutive year, the firm reported both record net income," said Jamie Dimon, JP Morgan's chief executive.
"The firm's results reflected strong underlying performance across virtually all our businesses for the fourth quarter and the full year."
He said loans to small businesses over the full year were up by the fifth.
Analysts were impressed with the results.
"All in, we think it's a good quarter for JPM, and underscores their solid earnings power," Mr Schorr said.
"Solid earnings progression and reasonable valuation should make 2013 another good year for the [share price]."