EU car sales fell 8.2% in 2012, say carmakers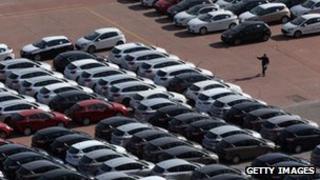 New car registrations in the European Union fell by 8.2% in 2012, hitting their lowest level since 1995, according to the region's biggest carmakers.
Carmakers across the 27 EU countries saw 12.05 million new registrations last year, said the European Automobile Manufacturers' Association.
Of the major markets, the UK was the only one to grow, up 5.3% from 2011.
But Spain, France and Italy saw double-digit declines in car sales.
Figures for December were particularly bad, exacerbating the overall annual decline.
Steep falls
"In December, new car registrations declined by a sharp 16.3% in the EU, continuing a downward trend commenced 15 months ago," the association said.
"The decline is the steepest recorded in a month of December since 2008."
Germany - the largest economy in Europe and one of the biggest car manufacturers in the world - saw its car sales drop 2.9% in 2012 compared with the previous year.
But sales in Spain fell by 13.4%, in France they fell by 13.9%, while in Italy they declined by 19.9% from 2011.
Car registrations in Greece - which has been bailed out twice and is in deep recession - dropped 40.1% from 2011.
The European Automobile Manufacturers' Association is made up of 18 car, truck and bus manufacturers, including premium carmakers such as Germany's BMW and budget manufacturers such as South Korea's Hyundai.