Japan's Nikkei falls on yen concerns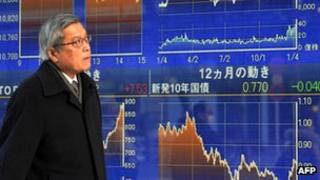 Japan's stock market has suffered its biggest one-day fall in eight months after government ministers expressed concerns about the weak yen.
The Nikkei index fell 278.64 points, or 2.6%, to 10,600.44, the day after hitting a near three-year high.
The yen has been weakening against the dollar for two months, but has rebounded in the past two days, raising fears that exports may suffer.
Analysts said traders taking profits on recent gains contributed to the drop.
"It's a correction - some exporters' gains are legitimate, but others aren't, so I am selling exporters which have gained while their fundamentals are still poor, such as Panasonic," said Makoto Kikuchi at Myojo Asset Management in Tokyo.
'Turning point'
On Tuesday, Economy Minister Akira Amari warned that the weak yen could hit consumers through higher import prices - comments echoed by Shigeru Ishiba, secretary general of the ruling Liberal Democratic Party, on Wednesday.
The yen has strengthened against the dollar this week, with a dollar now buying 88.2 yen.
"The market could be at a turning point, as the resurgent yen sparks selling," said Investrust's Hiroyuki Fukunaga.
A weak yen is seen as important for boosting exports, which are an important component of Japan's economy.
Japan, which is the world's third-largest economy, is currently in a recession, having contracted for two quarters in a row.
Last week, the new government approved a 10.3 trillion-yen ($116bn; £72bn) stimulus package designed to boost growth.