Renault to cut about 7,500 jobs in France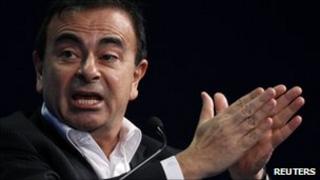 Renault is to cut about 7,500 jobs in France by 2016 as the carmaker continues to struggle with falling sales and profits.
Renault said it expects some 5,700 jobs to go through natural wastage, with the remainder coming from an extension of an early retirement programme.
The plans are subject to an agreement with unions, a Renault spokesman told France's AFP news agency.
Renault, like many European carmakers, has been hit by falling demand.
The cuts represent about 14% of Renault's workforce in France. The company has more than 120,000 employees worldwide.
"If an agreement is signed with unions, this staff redeployment would require neither a plant closure or a voluntary redundancy programme," Gerard Leclercq, head of Renault's French operations, told AFP. The company said the cuts should save about 396m euros (£328m) between this year and 2016.
Renault chief Carlos Ghosn warned last July that the carmaker was in a "difficult and uncertain" environment.
Last month, Renault's car registrations in France fell 27%, although the company is having more success in overseas markets. For the year, Renault's registrations in France fell 20% to 551,334.
Last week, France's Peugeot-Citroen reported a 16.5% fall in sales worldwide, blaming "the crisis affecting the European automobile market".
And on Friday, Japanese carmaker Honda announced 800 job cuts at its UK plant near Swindon, due to falling demand across mainland Europe.
Renault is negotiating a new pay and conditions deal with French unions in a bid to reduce costs.
The job cuts will be a further blow to French President Francois Hollande, who came to power on a promise to bolster manufacturing and reduce the unemployment rate, now approaching a 13-year high.