Burberry shares up on sales rise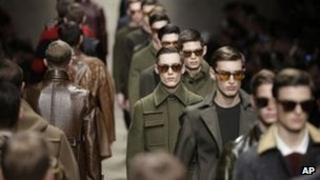 Burberry shares have risen 5% after it reported a strong increase in revenues for the final three months of 2012.
Total sales at the fashion house - famed for its camel, red and black check pattern - increased by 9% to £613m in the three months to 31 December, up from £574m a year earlier.
Sales were driven by sales of coats, scarves, men's tailoring and accessories, the company said.
Same-store sales, which pulls out the impact of new shop openings, grew 6%.
However, Burberry saw its wholesale sales fall 5%, which it blamed on weak trading conditions in Europe.
Burberry's wholesale arm, which supplies other retailers, recorded sales of £120m, down from £130m a year earlier.
Total retail sales at Burberry - those from its own shops and concessions in department stores - rose 13% to £464m.
European woes
Burberry chief executive Angela Ahrendts said: "We expect the external global environment to remain challenging."
The rise in sales comes as Burberry continues its recovery since it issued a profit warning last September, when it warned of weaker global trading.
On a regional basis, its retail sales saw the biggest rises across Asia Pacific, led by Hong Kong and mainland China. By contrast, its European retail sales were "broadly unchanged".
Wholesale sales grew in Asia, the US and emerging markets, but fell in Europe, where Burberry said small, independent fashion shops were suffering.
Clothing retailer Hennes & Mauritz (H&M) also warned about tough European trading on Tuesday.
The Swedish company, which has most of its business in Europe, said its same-store sales fell 2% in December.
However, H&M's total sales increased by 8%, beating market targets.