Japan's Nikkei hits highest level since April 2010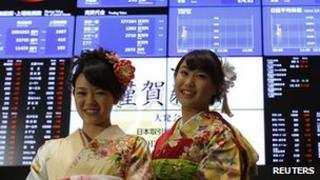 Japan's stock market has closed at its highest level in almost three years after the head of the Bank of Japan said he would take further action to help boost economic growth.
Masaaki Shirakawa said the bank would pursue "aggressive" monetary policy.
The main Nikkei index climbed 77.5 points, or 0.7%, to 10,879.08, its highest level since April 2010.
The Nikkei has been rising for two months, partly because of the weaker yen, which makes exports cheaper.
Last Friday, the new government approved a 10.3 trillion yen ($116bn; £72bn) stimulus package to boost growth, including infrastructure spending and incentives for businesses to invest.
Tokyo estimates the package could boost Japan's economy by 2% and create 600,000 jobs.
Japan, which is the world's third-largest economy, is currently in a recession, having contracted for two quarters in a row.