JP Morgan must tighten risk controls, say US regulators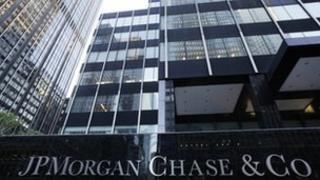 JP Morgan Chase, which lost billions of dollars in trades by an employee known as the London Whale, must revamp its risk management, regulators have said.
The bank was told to examine how it pays top executives, and how they are rewarded for taking on risk.
JP Morgan and its board agreed to submit a plan within 60 days.
However, the US Federal Reserve and the Office of the Comptroller of the Currency stopped short of apportioning blame or fines for the trading errors.
Stricter controls
In April, reports emerged of a London-based trader, Bruno Iksil who was called the London Whale because the positions he took were big enough to move markets.
This is the first regulatory action since the bank revealed it had lost $6.2bn (£3.8bn) in those derivatives trades.
Regulators asked the bank to tighten internal controls, risk management and oversight from the board.
JP Morgan said it "has been working hard to fully remediate the issues".
The bank's own report into the incident is due to be published this week when JP Morgan announces its fourth-quarter earnings.
JP Morgan still faces investigations by the US Department of Justice, the Securities and Exchange Commission as well as the UK Financial Services Authority among others.
Money laundering
In a separate case the OCC and the Federal Reserve also criticised the bank for lapses in its anti-money laundering rules.
It comes after JP Morgan reached a settlement of $88m with the US Treasury Department in 2011, in a case of violating US sanctions.
The accusations centred around wire transfers processed by JP Morgan to Cuba and Sudan, as well trade loans with Iran.
JP Morgan said it had made progress addressing the issues.