The 100 firms from emerging nations helping to drive growth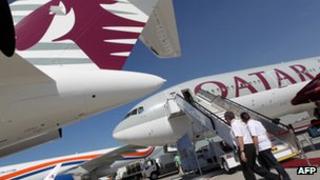 The speed at which companies from emerging economies are expanding on the international stage has been underlined in a new report.
Boston Consulting Group identified 100 firms it said are reshaping global industries and eclipsing traditional multinationals from the US and Europe.
Combined, these 100 had a better record of jobs growth and financial success than most of New York's S&P 500 index.
Yet many of the "challenger" firms are unknown in the West, the report said.
"If ever there was a wake-up call for business leaders in the West, this is it," said David Michael, co-author of the report. "We have been monitoring the rise of global challenger companies for nearly a decade, and the ambition of these companies... has never been stronger."
In its latest report, Boston Consulting Group (BCG) said that the 100 fast-growing, fast-globalising companies are spread across 17 rapidly developing economies. Companies from Colombia and Qatar join the list for the first time.
New sectors that make the list include companies in financial services, electronics and healthcare.
The list includes 30 companies from China and 20 from India. But there are also two from Indonesia (Golden Agri-Resources and Indofood), two from Chile (Falabella and Latam Airlines Group) and one each from Egypt and Argentina (El Sewedy Industries and Tenaris).
The report's authors say that it would be foolish in the West to underestimate the competitive threat, as the track record of such fast-growing firms lays bare the potential challenge.
In the past five years challenger companies have added 1.4 million jobs, while employment among S&P 500 firms - excluding financial companies - has been flat.
'Seismic shifts'
Average revenues among the 100 challenger firms in 2011 was $26.5bn (£16.5bn), against an average $20bn across the entire S&P 500 and an average $21bn for the S&P excluding financial firms. Also in 2011, challenger companies bought more than $1.7 trillion of goods and services, the report estimates.
Rather than fight what the authors call these "seismic shifts" in the global economy, traditional multinationals should embrace them in partnership.
The report highlights, for example, successful partnerships between Germany-based Merck and Dr Reddy's Laboratories, an Indian pharmaceutical company, and also an alliance between India's Bajaj Auto and Japan's Kawasaki.
"Global challengers bring far more to the table than a low-cost structure," said the report's co-author Tenbite Ermias. "Multinationals [in the West] that view global challengers only as low-cost competitors misunderstand their competitive threat and their potential for partnership."
Of the 100 companies on the latest list, 26 are new entrants. Many new names have displaced firms from Brazil, Russia, India and China. These BRIC nations once had 84 firms on the list, but now have 69.
The number of state-owned companies has also fallen, to be replaced by faster-growing private enterprises, the report said.
It said that several state-controlled enterprises, although successful in their domestic markets, have struggled when expanding overseas.