City of London sackings 'at five-year high'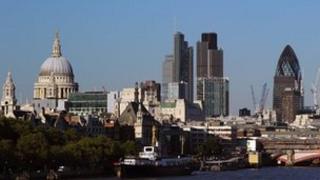 Dismissals and suspensions in the UK financial services sector hit a five-year high in 2012, according to data from the Financial Services Authority.
Some 1,373 workers were sacked for disciplinary reasons, up 76% from 2011.
The total number of job losses in the sector - including redundancies, resignations and retirements - was also at a five-year high, of 177,697.
The data was obtained from the FSA by law firm Pinsent Masons under a freedom of information request.
"The FSA has increasingly shown that it is cracking down on financial crime and market abuse," said Helen Farr, a London-based partner in the financial services team at Pinsent Masons.
"FSA enforcement activity has clearly had an impact on firms' willingness to tolerate wrongdoing. Firms now appear much more likely to discipline employees for offences."
The spike in dismissals follows a string of scandals in recent years:
the manipulation of Libor - an international benchmark interest rate set by the London banks and used for trillions of dollars' worth of financial contracts
the mis-selling of payment protection insurance to mortgage borrowers
the mis-selling of interest rate and currency hedging products to small businesses
a string of insider trading cases
the conviction of London-based rogue trader Kweku Adoboli, who lost $2.3bn (£1.5bn) for Swiss bank UBS
Banks and other financial firms are required to inform FSA of any change in employment status of workers required to be registered with the City watchdog.
The data does not take account of possible reemployment of the dismissed workers at another firm or internally within the same company.