UPS drops 5.2bn-euro bid for TNT over EU competition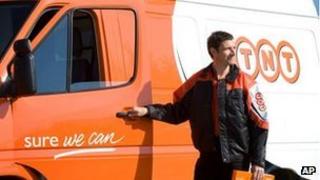 Package delivery firm United Parcel Service (UPS) has pulled out of its 5.2bn-euro ($6.8bn; £4.3bn) bid for Dutch rival TNT Express after discovering EU competition authorities would probably block the deal.
UPS said it saw "no realistic prospect" of approval of the deal from the European Commission.
UPS had offered to buy TNT in March in a bid to expand its European business.
UPS said it would pay TNT a 200m-euro break fee for dropping the deal.
"UPS informed TNT Express that UPS sees no realistic prospect that [European Commission] clearance can be obtained and that UPS will not pursue the transaction on any other basis," TNT said in a statement.
UPS had offered to sell parts of the company's small package operations and airline assets to try to appease the Commission's concerns, but said it had decided to pull out after a final meeting with regulators last week.
"We proposed significant and tangible remedies designed to address the European Commission's concerns with the transaction," UPS chief executive Scott Davis said.
Mr Davis said he was "extremely disappointed" with the stance taken by regulators.
The Commission had been due to announce its official decision on the deal early next month.
Shares in Amsterdam-listed TNT, Europe's second-largest delivery company after Deutsche Post's DHL, plunged 50% immediately after the announcement, before recovering slightly to trade 42% lower at 4.762 euros.
TNT, which reported a 3m-euro loss for its third quarter in its most recent trading update, said the "protracted merger process has been a distraction for management".
It said it would now focus on reassuring customers, encouraging employees and making money.
"Management will provide an update on its strategy in due course," the firm added in a statement.