Anarchist arsonists target Greece journalists' homes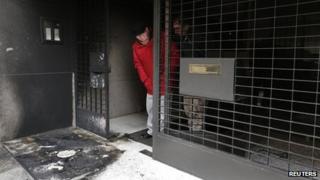 Arson attacks have been carried out on the homes of five Greek journalists.
Anarchists angry at media coverage of the country's economic crisis say they carried out the attacks, which caused little damage and no injuries.
Makeshift gas canister bombs exploded in the early hours of Friday morning in five neighbourhoods outside blocks of flats where journalists live.
One of those targeted was Antonis Skyllakos, director of the state-run Athens News Agency.
In a statement posted on a leftist website, anarchists calling themselves Lovers of Lawlessness said of those targeted: "While they use a pro-workers rhetoric, they wink mischievously at their political bosses."
Police said anarchists had used such methods in the past, but it is the first time since Greece's debt crisis erupted in 2009 that journalists have been targeted.
"This is an attempt to openly terrorise the media, a vital part of our democracy," said coalition government spokesman Simos Kedikoglou.