US trade deficit widens as imports increase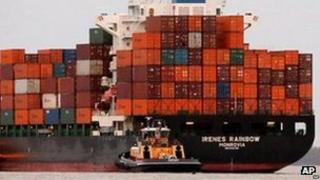 The US trade deficit widened unexpectedly in November, after a rise in the import of consumer goods.
Figures from the Commerce Department showed that the gap widened by 16% to $48.7bn (£30.1bn). The markets were expecting the deficit to shrink.
The deficit was the widest recorded since April last year.
Imports increased by 3.8%, the largest rise in eight months, to $231.3bn. The value of exports increased by 1% to $182.6bn.
Imports of consumer goods rose by $4.6bn. Analysts say this is a sign that the US retail sector is growing stronger, with rising consumer spending.