Apple expects Chinese sales 'to overtake US'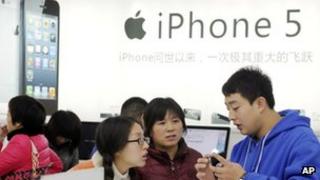 Apple expects China to overtake the US as its biggest sales market, the company's chief executive has told China's state news agency.
"China is currently our second-largest market, I believe it will become our first," Tim Cook told the Xinhua News Agency.
Mr Cook's comments came on a visit to Beijing to meet Chinese regulators and bosses of mobile network China Unicom.
Apple currently has 11 stores across China.
The company saw its Chinese sales double in both 2010 and 2011, but the growth rate slowed last year.
Mr Cook did not say when he expected Apple's Chinese sales to surpass those in the US.
Its iPhone is supported by China Unicom, and when the latest version of the iPhone was launched in China in December, Apple sold more than two million handsets in three days.
However, sales of its phones in China trail rival handsets from the likes of Samsung that use Google's Android operating system.
Earlier this week it was revealed that Foxconn, the Taiwanese company that assembles Apple products in China, was being investigated by Chinese authorities over bribery allegations.
The Xinhua News Agency reported that Mr Cook said Apple enforced a strict code of conduct on its suppliers.