American manufacturers come back home
By Kim Gittleson
Business reporter, BBC News, Clyde, Ohio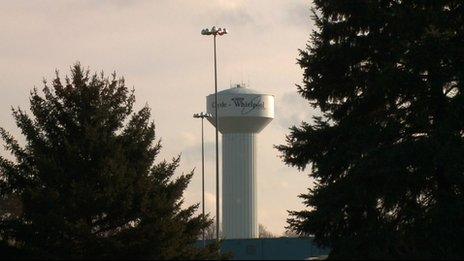 Visitors to Clyde are greeted with the view of a water tower presiding over the flat landscape, carrying a large Whirlpool logo.
The tower is a clear symbol of the small Ohio town's economic heart.
Whirpool's 2.5 million sq ft (232,000 sq m) washing machine factory dominates the main drag here, and the businesses along this stretch, such as Gary's Diner and Pizza House, are often filled with the appliance manufacturer's workers.
On the factory floor, the din is overwhelming. More than 3,000 workers - half the population of Clyde - are busy testing, screwing, welding, and painting the hundreds of pieces that make up the company's washing machines.
This is the largest washing machine plant in the world, with 30 miles (50km) of overhead conveyor belts that clatter along, carrying assorted barrel drums and metal doors.
But stop for the time it takes to make one machine - approximately four seconds - and a few things will become apparent that differ from factories past.
Those carts driving by, filled with grey fabric? They have no driver. They are automated to follow an orange line on the ground.
And those LED screens at each assembly line? They monitor each worker's productivity to the second and can give instant feedback about how to improve production.
Such details make the plant one of Whirlpool's most productive, and it is one reason why the company, when it was looking to move production from a plant in Mexico, decided to bring jobs back to Ohio.
"There's been a lot of focus both by the company and the employees to become more efficient, more effective," says Whirlpool vice president Jeff Noel.
"That's made making products in the US more competitive than it has been in the past."
American manufacturing lost more than two million jobs during the recession, accelerating a decline that began long ago in the 1970s.
Yet since then, manufacturing has been one of the biggest drivers of job growth in the US, adding more than 500,000 jobs.
While much of that job growth could be attributable to post-recession pent-up demand, that is not the whole story.
According to the Reshoring Initiative, a group of companies and trade associations trying to bring factory jobs back to the US, about 10% of those job gains - 50,000 jobs - were created by companies bringing back manufacturing from overseas.
Last March, General Electric's (GE's) chief executive, Jeffrey Immelt, wrote an article in the Harvard Business Review where he announced that GE planned to add more than 1,000 manufacturing jobs at its Louisville, Kentucky, facility - a manufacturing plant the company tried to sell only a few years ago during the depths of the recession.
"We can bring manufacturing back to the United States and be profitable," Mr Immelt said.
Better, faster, more productive
There are many reasons why corporate accounts are once again favouring the American worker.
Higher labour costs abroad, coupled with cheap natural gas as a result of the fracking boom in the US as well as workers who are willing to work for lower wages have made it more economical than it once was to produce back in America.
Moreover, changing consumer behaviour means customers often want products immediately and with varying specifications, so "it's better to be closer to your customers", according to Mr Noel.
Finally, newer factories with increasingly automated technology require a more highly educated workforce, which the US has as a result of its manufacturing past. Besides, automation costs are roughly the same wherever in the world a company operates.
With all these factors combined, by 2015, a variety of manufacturing industries, from appliances to tyres, will find it more cost effective to produce goods in the United States, according to a recent report by the Boston Consulting Group.
This could add an estimated two to three million jobs and more than $20bn (£12.4bn) in output to the American economy - a striking reversal from years past.
But 2015 is a long way off, and some remain sceptical.
"The best data we have shows us that nothing like a manufacturing reshoring wave is happening now," says manufacturing expert Alan Tonelson, of the US Business and Industry council.
With headwinds from Europe, dysfunctional politics in Washington, and US trade policy that continues to encourage overseas production, the growth in manufacturing job creation appears to be slowing down, Mr Tonelson adds.
And even if all of these factors were to disappear, it would be unlikely that the jobs added would ever be able to replace the more than eight million jobs that have been lost since the 1970s.
For Clyde's workers and others in the local community, Whirlpool's commitment has allowed them to breathe easy for the first time in a while.
"It's very important for us, especially since they're the largest manufacturer in our county," says Kay Reiter, executive director of the Sandusky County Economic Development Corporation.
"If you look at all the suppliers that we have already locally, it's huge."
The hope is that Clyde can continue as it has been since Whirlpool first came to the town in 1952; as a place once described in American literature by Sherwood Anderson as the quintessential American small town.
For this community, "Made in America" is not a fading sentiment. It is a rallying cry.
"I've been with Whirlpool for 26 years," says Sonny Workman, who works on the Alpha assembly line in the plant.
"My dad worked here, my aunts and uncles too. It's the family business."
Related Internet Links
The BBC is not responsible for the content of external sites.