Honda to cut 800 jobs in Swindon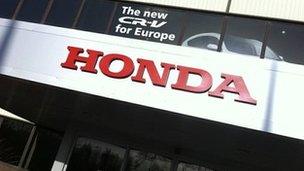 Honda is planning to cut 800 jobs at its Swindon plant, blaming weak demand across Europe.
The Japanese carmaker, which began manufacturing there in 1992, has been hard hit by the eurozone crisis.
The Swindon plant, which produces the Civic, Jazz and CR-V models, employs 3,500 people, having added 500 to the workforce a year ago.
Honda has begun a 90-day consultation period on the job cuts and says it hopes to avoid compulsory redundancies.
"Sustained conditions of low demand in European markets make it necessary to realign Honda's business structure," the company said in a statement.
It added that demand for cars in Europe had fallen by one million in the past year.
But Honda said it was still committed to manufacturing in the UK and Europe in the long term.
The Swindon plants built 166,000 cars in 2012, which was well below the capacity of 250,000.
It was a big jump from 2011 when 97,000 were produced, but still significantly down from the 230,000 made in 2008.
In a statement, industry group the Society of Motor Manufacturers and Traders said it was very disappointing news.
"Despite challenges brought by weak European demand, the longer-term prospects for the UK automotive sector remain good," SMMT chief executive Paul Everitt said.
"We hope that those affected will be able to take advantage of the opportunities we know exist throughout the UK sector and its supply chain."
SMMT figures from earlier in the week showed that UK new car registrations rose by 5.3% in 2012 to 2,044,609 cars, which was the highest number since 2008.
Its figures showed that 54,208 Hondas were registered in the UK last year, up 7.2% from 2011.
About 40% of the cars produced in Swindon are sold in the UK.
Business Secretary Vince Cable visited Honda in September last year to welcome its £267m investment in the UK.
"This Honda story is part of a much bigger picture of optimism, of feeling that Britain is a really good place to manufacture and make cars," he said at the time.
In the first 11 months of 2012, 131,346 Hondas were registered in Europe, down 6.2% from the same period last year.
Earlier in the week, Peugeot Citroen said its global sales had fallen sharply in 2012, which it blamed on "the crisis affecting the European automobile market".
It said that sales had been particularly poor in the recession-hit southern European states.
The ACEA supported this assessment, with registrations in Greece down 41% in the first 11 months of 2012, while Portugal was down 37% and Italy was down 20%.
BMW, on the other hand, said the popularity of its brands had allowed it to overcome challenging market conditions.
It reported record annual sales for 2012, including 1% growth in Europe.
Related Internet Links
The BBC is not responsible for the content of external sites.